Universal Portable Benefits State Scan
Employer-based benefits are failing to keep pace with today's changing economy. From the growing impact of automation — a force that puts more than 1 million Colorado jobs at risk — to the rising number of non-traditional employees, there's little security in how today's workers access even basic benefits like health care and retirement savings. Simultaneously, slow and inconsistent wage growth is stretching budgets and making families increasingly reliant upon dual incomes.
Yet, workplace benefits systems haven't adapted to this reality. These collective inadequacies have real consequences, as limited or no access to the essential building blocks of economic security, like health care and paid family and medical leave, makes it more difficult for workers and their families to get and stay ahead.
Recognizing the growing imperative for action, state policymakers are playing a key role in rebuilding fractured benefits systems by advancing new suites of universal portable benefits. Advantageous to both employees and employers, portable benefits offer critical supports which are cost effective, essential for economic mobility, and responsive to an evolving economy.
Colorado has begun exploring how to best update and improve its universal portable benefits system. As we progress, we can and should learn from the work in other states, both about the inherent challenges and opportunities. Below, we explore efforts to create universal portable benefits systems throughout the country, as well as new areas of potential growth.
Summary of State Action on Universal Portable Benefits
Universal portable benefits aren't a new concept. Whether it's social security, health insurance made possible by the Affordable Care Act, or Medicare/Medicaid, many of us use universal portable benefits on a regular basis. In addition to bolstering existing (often federal) programs, states have been at the forefront of creating new benefits systems. Though gradual and piecemeal, momentum behind these efforts has picked up over the past several years. The chart below shows which states have successfully passed new portable benefits programs, and the year it was done.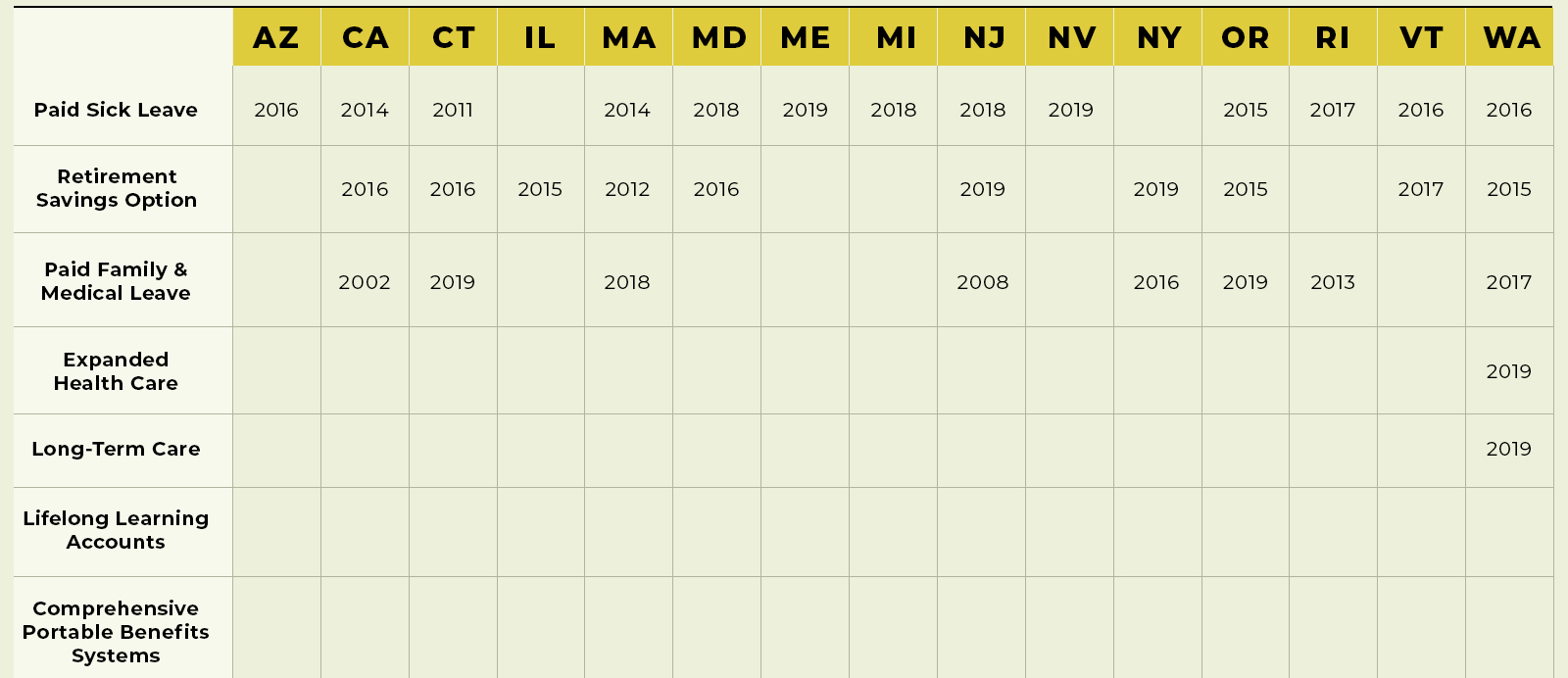 While the above chart shows promise and strides toward innovative solutions, it also shows a great deal of work remains in creating a robust and comprehensive system of universal portable benefits. Not only have less than one-third of all states created any type of new benefit, but there has been little success in expanding beyond the most well-known programs despite the need for more expansive offerings, like lifelong learning accounts to help meet the demands of a changing workforce.
Progress on Universal Portable Benefits in Colorado
Though other states are farther along in advancing universal portable benefits, Colorado has made some progress over the past several years in developing its own programs. This has involved efforts to implement and support:
Paid family and medical leave: In 2019, Colorado's legislature passed a bill creating a task force to study the development and implementation of a paid family and medical leave program. The task force will spend the fall of 2019 studying the issue and release a public report with final recommendations in early January 2020.
Retirement savings option: Similar to paid family and medical leave, in 2019, the state legislature passed a bill creating the Colorado Secure Savings Plan Board. This board is tasked with examining several options regarding how the state can best help workers save for retirement. One option the board will study involves creating a Colorado Secure Savings Plan, which would automatically enroll workers into a workplace IRA. The board will release its findings in January 2020.
Expanded health care: In 2019, Colorado's legislature passed a bill requiring the state's Division of Insurance (DOI) and Department of Health Care Policy and Financing (HCPF) to study and develop a public health care option. DOI and HICPF's proposal will be presented to the legislature in the fall of 2019.
Recognizing traditional employer-based benefits structures no longer offer a reliable way to sustainably meet workforce and economic needs, forward thinking leaders are looking to universal portable benefits as a way to rebuild failing systems.
Hearteningly, momentum is gaining behind this work. As it does, successful efforts to pass and implement these new programs show us the value of:
Learning from best practices: As the prevalence of universal portable benefits programs grow, best practices are emerging. Newer programs are increasingly incorporating these lessons into their plans and structures, resulting in stronger, more effective, and equitable systems.


Tailoring programs to meet state needs: The beauty of state-based universal portable benefits systems lies in policymakers' ability to tailor programs to meet state needs and leverage existing resources. No two portable benefits systems are exactly alike. Instead, policymakers have been able to learn from others, while simultaneously creating individualized systems which work best for their state.


Harnessing creativity and innovation: State policymakers are in the unique position of being able to both learn from the best practices of others, while simultaneously playing a leading role in the development and expansion of universal portable benefits. While there's been a great deal of forward momentum in creating new portable benefits over the past few years, much work remains. As a result, there's a tremendous opportunity for policymakers to set their states apart by creating new and innovative systems built on well-founded best practices.


Acting on recognized needs: Leaders in each of the states with new portable benefits systems, in part, took action because they recognized the economy has permanently changed. Policymakers took stock of these changes and explored their consequences. Armed with research and well-developed plans, state leaders acted to fill existent holes, knowing inaction comes with a cost.
Colorado is at a crossroads. The economy of the future is upon us, and we have a choice in how we respond. We've already taken some action to develop our own unique universal portable benefits system, but we can, and must, do more. By learning from work in other states and tailoring best practices to create a universal portable benefits system that works for Colorado, we'll be taking positive steps to help our workers, workplaces, and communities meet the challenges of the future head on.