IN THE KNOW
Truth and context in political discussion is more important now than ever. So often, assertions are made without evidence or follow-up, leaving voters without the information they need to make informed choices about candidates or issues. This new series aims to cut through the noise to provide factual analysis about the issues facing Colorado.
We're dedicated to peeling back the rhetoric and giving you the facts. Below, find a collection of fact sheets with up-to-date research to help you stay informed on the issues leading debates & discussion around the state.
Check back here often and follow us on social media as we update this series to address emerging issues.
Current fact sheets include: Rent Control, The Caring Workforce, Colorado Taxes, Medicaid Reimbursement Rates, Making Housing Affordable, Early Childhood Education, State Budget, Property Taxes, Transportation Fees, State Refunds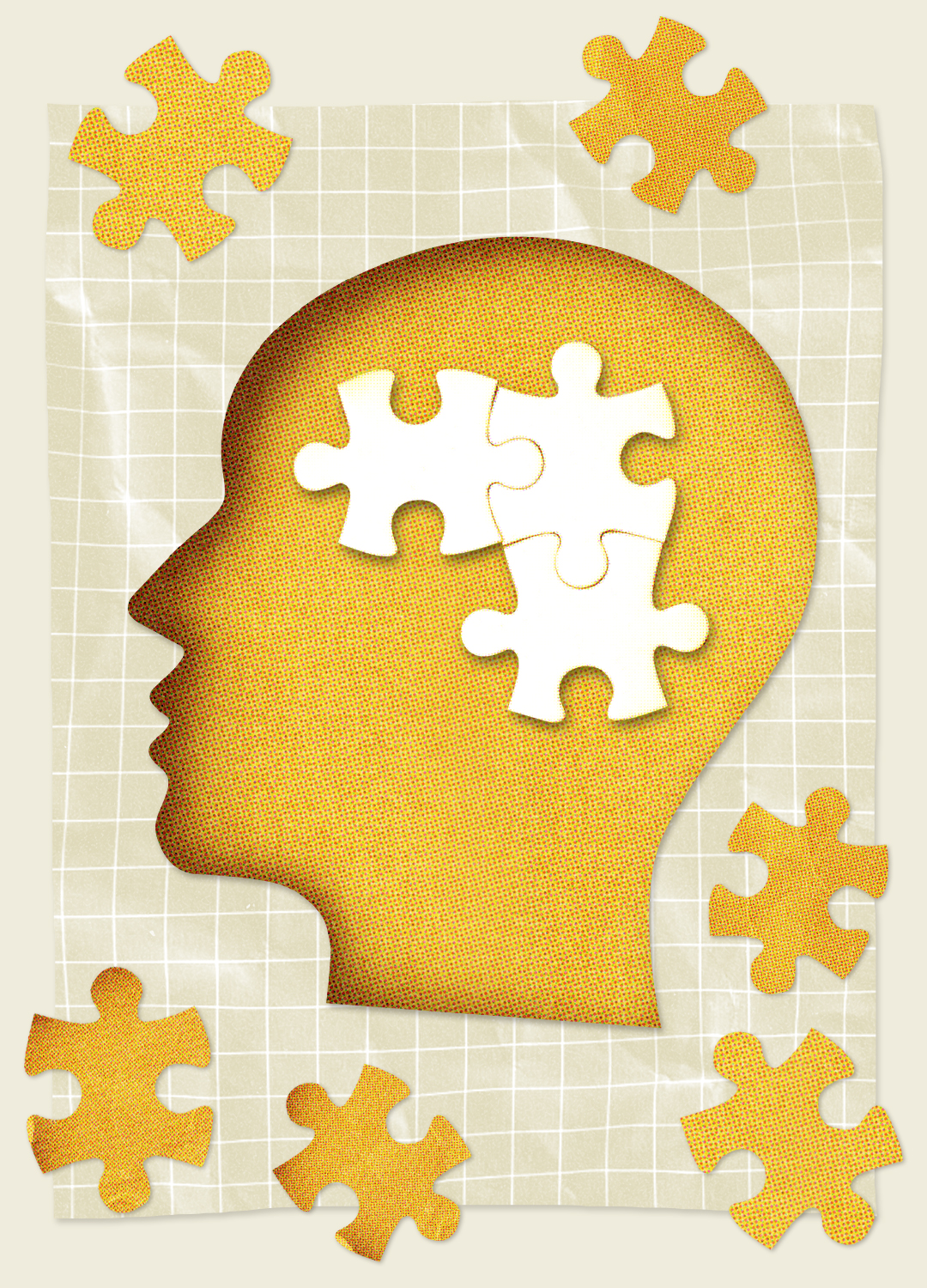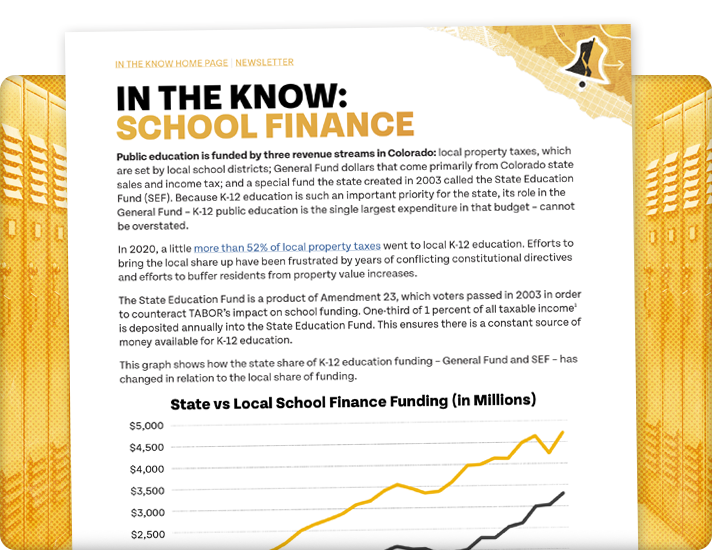 K-12 education is one of Colorado's largest budget expenditures and most essential public services. This fact sheet outlines how K-12 education is funded, how funding levels have changed over the years, and how much is needed to reach adequate funding for students in all corners of the state.
– Posted 3/30/2023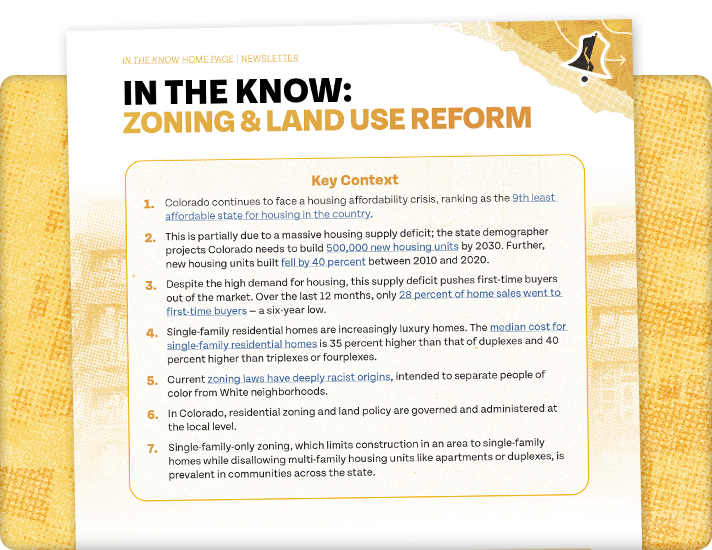 As Colorado works to tackle the ongoing housing crisis, it is crucial that we look at the regulations on what types of housing units are permitted, and where they can be built. By reforming land and zoning rules, we can more efficiently use each dollar spent on housing solutions. – Posted 3/23/2023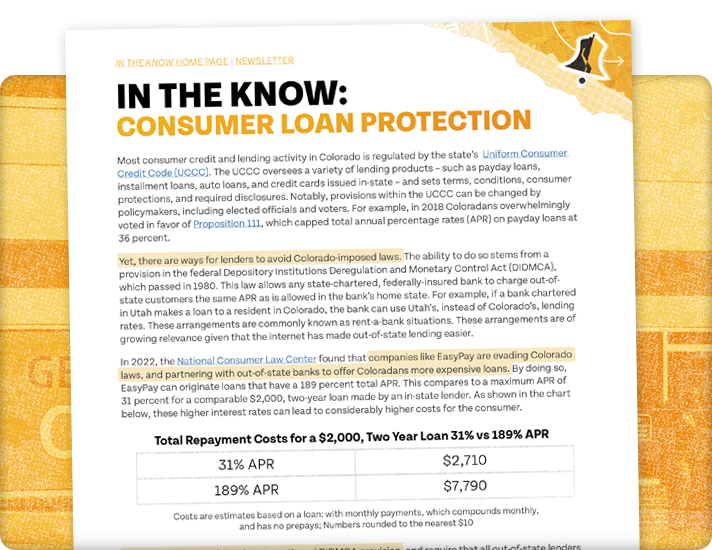 Colorado has some of the strongest consumer protection in the country, yet predatory lenders have been able to skirt regulations by selling out-of-state loans within Colorado. This fact sheet outlines that process, and what we can do to stop it.  – Posted 3/22/2023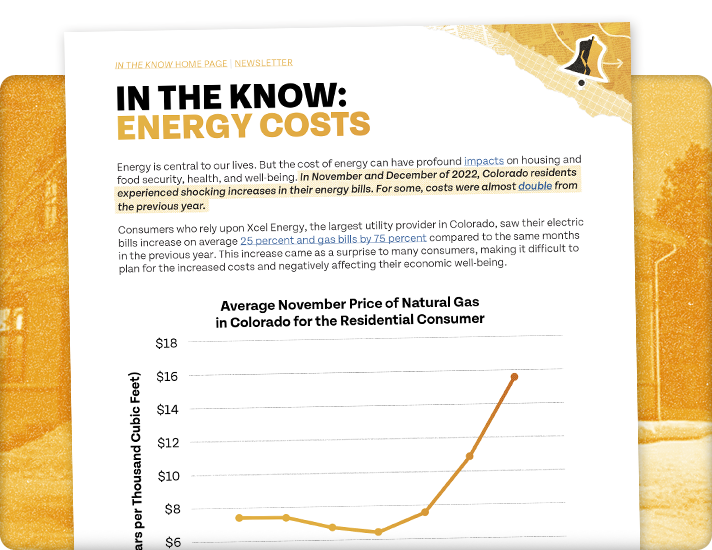 In November and December of 2022, Colorado residents experienced shocking increases in their energy bills. For some, costs were almost double from the previous year. This IN THE KNOW fact sheet outlines what drives energy price increases, who gets hit the hardest, and what could be done to alleviate rising energy costs.
– Posted 3/16/2023
Rent control is a cap on price increases, limiting a landlord's ability to increase rent. There are different forms of rent control policies with different features which reflect of community preferences. When well-directed, rent control can deliver targeted relief to limit displacement and stabilize families' budgets. – Posted 3/03/2023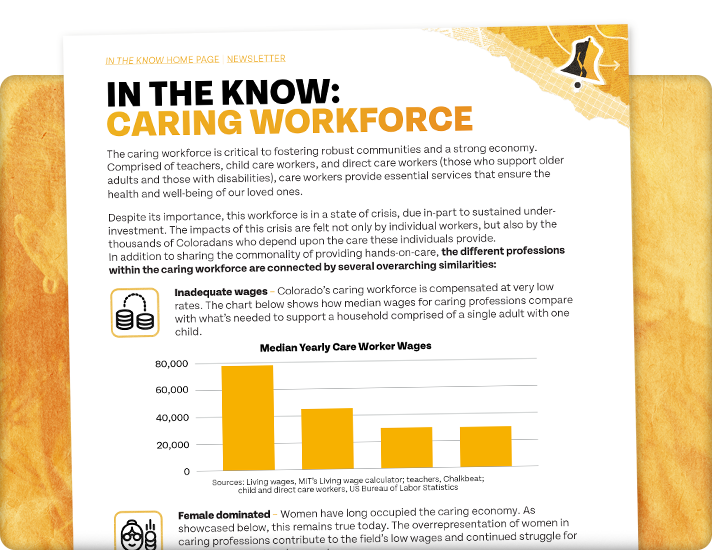 Despite its importance, Colorado's caring workforce is in a state of crisis, due in-part to sustained under-investment. The impacts of this crisis are felt not only by individual workers, but also by the thousands of Coloradans who depend upon the care these individuals provide. – Posted 10/26/2022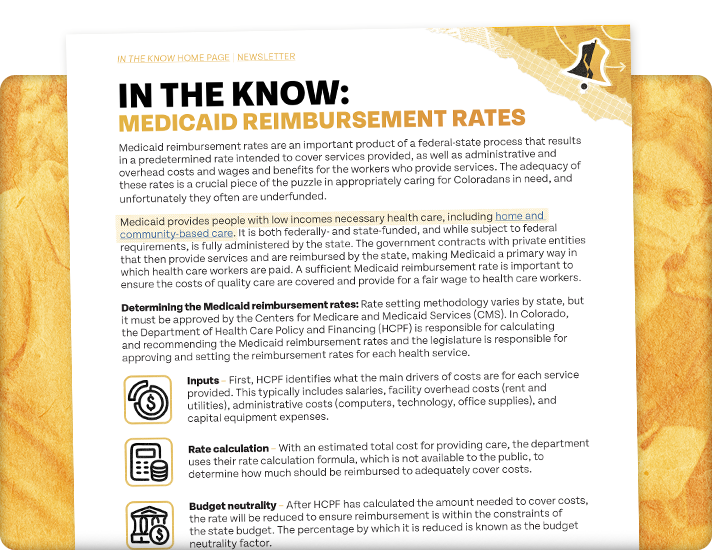 Medicaid reimbursement rates, which help cover costs of health care services for lower income Coloradans, are insufficient. This leads to low wages for care workers and high turnover in the industry. Improving these rates would begin to address care worker shortages and meet the needs of aging communities in our state. – Posted 9/15/2022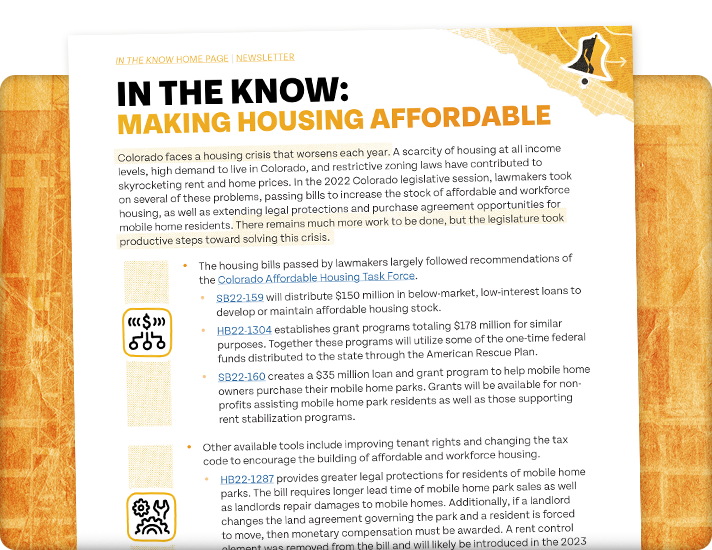 Colorado faces a housing crisis that worsens each year. A scarcity of housing at all income levels, high demand to live in Colorado, and restrictive zoning laws have contributed to skyrocketing rent and home prices. There remains much more work to be done, but the legislature took productive steps toward solving this crisis.
– Posted 9/15/2022
Quality early child care is a long-recognized cornerstone of economic mobility and security. Yet, despite its recognized importance, the care Colorado families need remains both unaffordable and inaccessible.
– 8/19/2022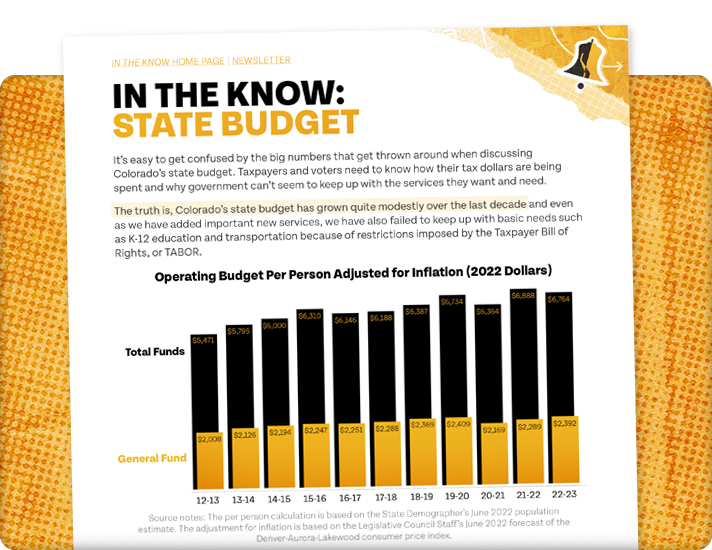 It's easy to get confused by the big numbers that get thrown around when discussing Colorado's state budget. Taxpayers and voters need to know how their tax dollars are being spent and why government can't seem to keep up with the services that constituents rely on. – Posted 8/02/2022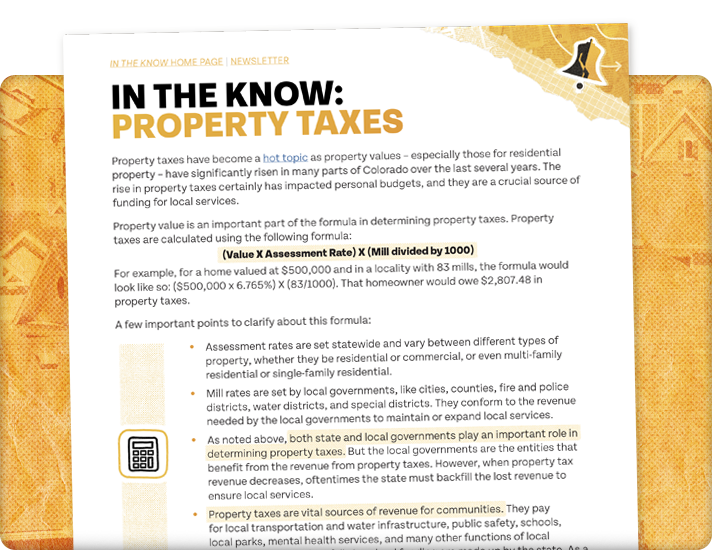 Property taxes have become a hot topic as property values – especially those for residential property – have significantly risen in many parts of Colorado over the last several years. While the rise in property taxes certainly has impacted personal budgets, they are a crucial source of funding for local services. – Posted 8/02/2022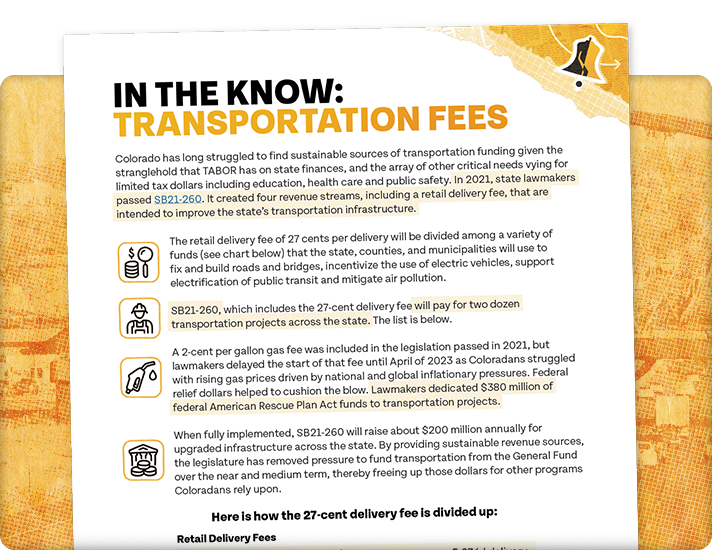 Colorado has long struggled to find sustainable sources of transportation funding given the stranglehold that TABOR has on state finances. In 2021, state lawmakers passed SB21-260. It created four revenue streams, including a retail delivery fee, that are intended to improve the state's transportation infrastructure. – 7/21/2022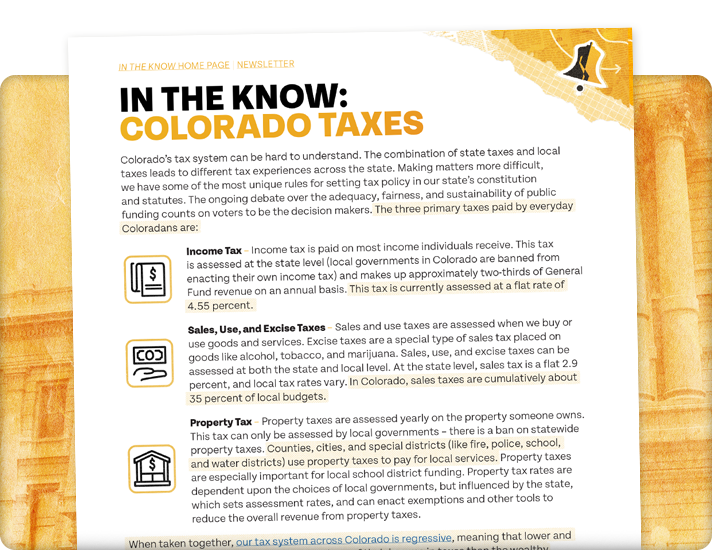 Colorado's convoluted tax system leads to different tax experiences across the state. Making matters more difficult, we have some of the most unique rules for setting tax policy in our state's constitution and statutes. The ongoing debate over the adequacy, fairness, and sustainability of public funding counts on voters to be informed decision makers about how taxes work in Colorado. – 9/29/2022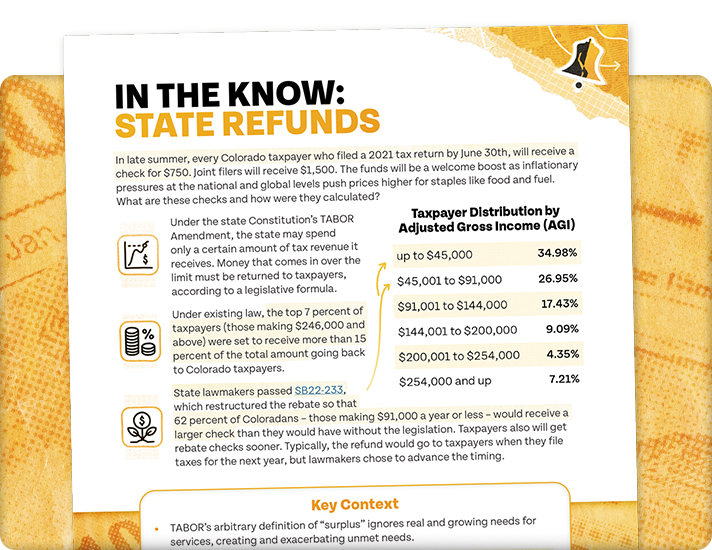 In late summer, every Colorado taxpayer who filed a 2021 tax return by June 30th, will receive a check for $750. Joint filers will receive $1,500. The funds will be a welcome boost as inflationary pressures at the national and global levels push prices higher for staples like food and fuel. What are these checks and how were they calculated? – Posted 7/21/2022