What is Debrucing?
"Debrucing" is the act of eliminating the revenue cap at a governmental level to allow a government to retain and spend all of the revenue it collects. The revenue cap is part of the Taxpayer Bill of Rights (TABOR) and works together with other provisions to reduce the state's ability to raise revenue and invest in Colorado and its families.
The revenue cap has been a topic of debate since the inception of TABOR in 1992. This is largely due the negative effect it has on public investment in Colorado, particularly during economic downturns. Achieved through voter-approved ballot measures, eliminating the revenue cap or debrucing (named as such because of TABOR's author Douglas Bruce) has been considered by many Colorado localities. Following this lead, the Colorado legislature referred a measure to the November 2019 ballot — Proposition CC — asking voters to debruce statewide.
The revenue cap means no matter how much revenue comes into the state from taxes paid, the state has a limit on how much is available to invest in its Coloradans and communities.
The text of the Colorado Constitution addressing the revenue cap is Article X, Section 20, Subsection 7, and involves three primary components.
Revenue cap formula: A calculation of how much growth in state spending is allowed in a given year.
Mechanisms for rebates: If state revenue exceeds a certain threshold, the method and mechanisms used to direct that revenue to some or all of Coloradans.
Ratcheting effect: An effect that happens in years of slow growth, essentially "ratcheting" down spending growth to the lowest years of state spending, dramatically limiting public spending to recover and match the economy. The ratchet effect was eliminated by passage of Referendum C in 2005.
All together, these components prevent public investment in Colorado to meet a changing economy and provide the vital services needed to keep the state competitive for generations to come. In years of strong economic growth, governments haven't been able to take advantage of a rising economy and make needed investments.
The formula for the cap boils down to a calculation of inflation plus population growth. Unfortunately, this formula wasn't designed to match the budget of government nor the increased costs in government-provided services.
In terms of population growth, not all populations are created equal when it comes to public service needs. Younger and older people both need a higher share of services — think health care, education, and other targeted programs — than other groups. In Colorado, we have a growing number of older Coloradans, but population growth is not a strong metric for guiding how much revenue is necessary to invest in this particular group. Looking only at overall population growth neglects what might be needed based upon state demographics.
In terms of inflation, the TABOR formula uses the consumer price index (CPI) to account for inflation growth. CPI is typically used to measure how much the costs of goods and services for a family have changed over time. This is problematic for a government revenue limit because CPI doesn't measure the changes in the prices of goods and services purchased by governments. The inflation for a gallon of milk or a new pair of pants isn't tied to the price of services like health care or education.
For example, CPI for the Denver metro area grew 1.6 percent between May 2018 to May 2019, but health insurance inflation grew 10.7 percent nationally from April 2018 to April 2019. If the government has to pay for a near 11 percent increase in health insurance costs with only 1.6 percent increase in the TABOR limit, this forces the state to dramatically cut other programs to make up the difference.
When broken down and combined with other aspects of TABOR, the revenue cap limits government spending without concern for growing economic demands. This is made possible by using a formula that's imprecise and detached from the needs of the state.
Referendum C proposed a five-year timeout from the revenue cap between fiscal year 2005 and fiscal year 2009 and eliminated the ratchet effect from future revenue cap calculations. Referendum C created a new baseline for the revenue limit that was above the ratchet level, but below the pre-recession TABOR level. Without Referendum C, lawmakers would have needed to cut the state's budget by $2 billion, likely coming from slashing the budgets of health care, higher education, senior property tax exemptions, and other important services many Coloradans rely on.
Permanent tax cuts signed in 1999 and 2000 as well as the recession of 2001-2003, which impacted Colorado significantly, were the catalysts for Referendum C. Decreasing state revenue meant many services had to be cut to balance the budget. When the economy recovered, revenues started to increase to pre-recession levels. But since the revenue cap was based on recessionary revenues (a feature of the ratchet effect), the state had to continually send TABOR-mandated taxpayer refunds instead of reinvesting the new money in important programs that were cut during the downturn. This caused a cycle of continuous cuts that would have had a disastrous long-term effect, had it not been for the passage of Referendum C.
Instead, by passing the referendum, voters eliminated the ratchet and, as the Denver Post put it in endorsing the measure, "increase[d] state revenues by $3.6 billion by 2010 — at which point the state's authorized revenue will still be $200 million below the level authorized by TABOR itself if there had been no recession." This was all done without raising taxes. In fact, because the economy recovered better than anticipated, the increase in revenue was actually $5.7 billion.
Debrucing Across Colorado
Because TABOR applies to all governments and taxing districts in Colorado, no matter how big or small, the question of eliminating or changing the revenue cap has come to the voters many times.
Debrucing appeals to a wide swath of voters and constituencies. In fact, 51 out of the 64 counties in the state, 230 out of the 274 municipalities in Colorado, and 174 school districts, have all debruced since TABOR's inception in 1992. Many different groups — a lot of whom rarely see eye to eye on public policy issues — are also advocating for the state to debruce.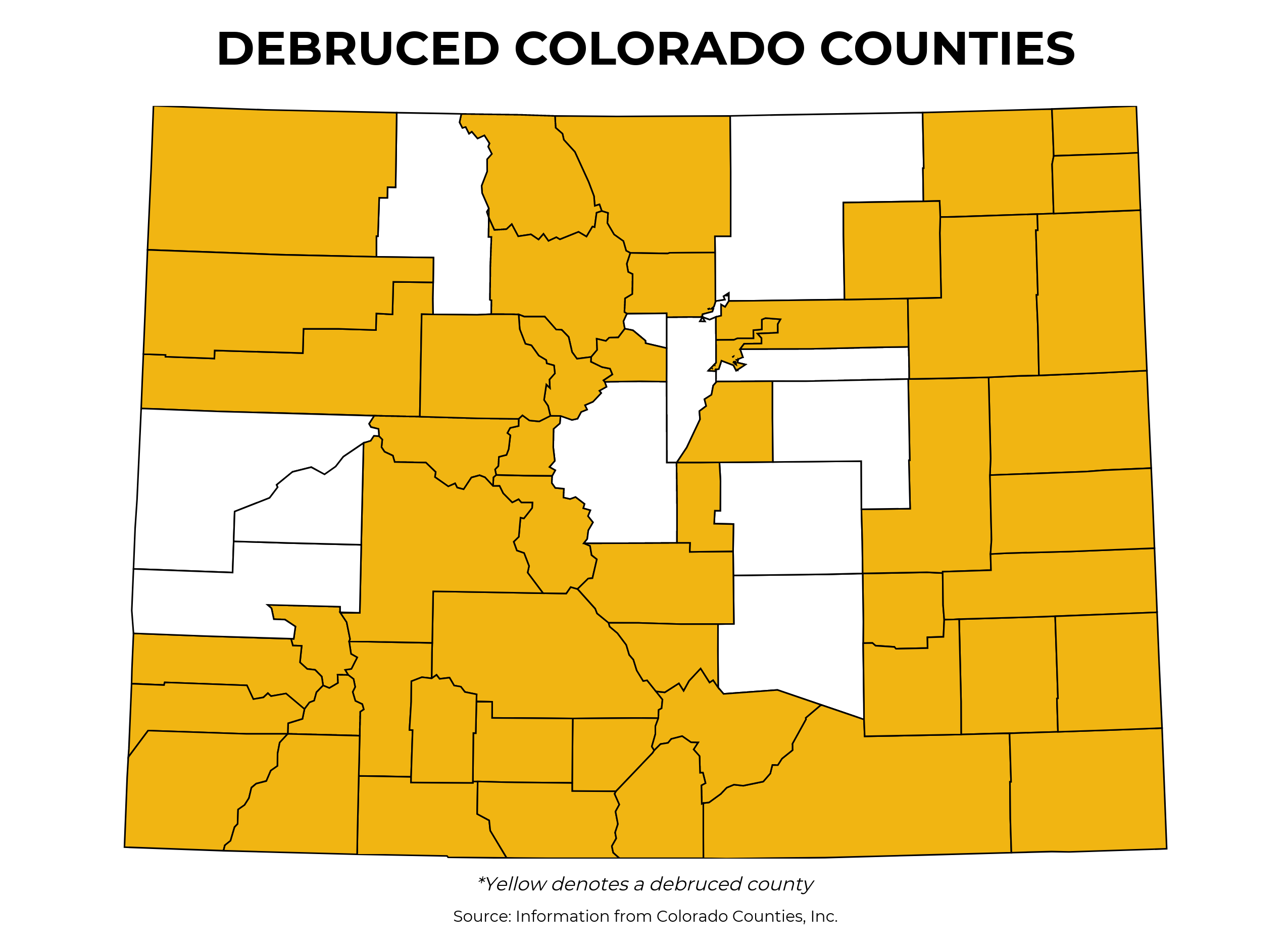 Those groups include K-12 and higher education groups and associations across Colorado, the Colorado Contractors Association, state and municipal chambers of commerce, the Colorado Hospital Association, the Colorado Municipal League, county commissioners, and former Republican and Democratic elected representatives.
Colorado can consider other options
There has been a lot of discussion on how debrucing can help Colorado fund important programs when the economy is booming and there's a significant excess of revenue. However, the revenue cap is less relevant when there is an economic downturn. When that happens, there's generally no excess revenue, and therefore, no extra money to invest.
Debrucing is a good step that will have real benefits, but it will not solve all of our issues. A graduated income tax is one example of how Colorado can better examine the relationship between revenue and constituents.
However, as mentioned earlier, TABOR's many different components work in making inequities in the system difficult to unravel, including a section mandating a flat tax across income levels. Without a graduated income tax, low- and middle-income families end up paying a larger share in taxes. As the Colorado Fiscal Institute has shown, the lowest 20 percent of Coloradans by income pay 8.4 percent of their income in effective taxes. By comparison, the top 1 percent of income earners in Colorado pay 4.6 percent.