State of Aging: Community of Choice
State of Aging: Community of Choice
Most people want to remain in their homes and communities as they age. Doing so not only supports individual health, well-being, and comfort, but is also a far less expensive option than institutional care. However, to make this a reality, a variety of services and supports must be in place. Below, we assess the availability of a range of necessary services and supports which have been identified as essential for living in one's community of preference in older age.
Recognizing the important role local communities play in creating environments supportive of healthy aging, AARP developed a designation to acknowledge age-friendly communities. Though not an assessment of how age friendly a locality is, this designation does denote a commitment by officials to make communities more age-friendly in policy planning, action, and evaluation. Driven by local needs, age friendly communities may choose to focus on issues such as transportation, service provision, or housing. Among all other metrics, this was chosen as a key benchmark in assessing Coloradans' ability to live in their community of choice because of the tremendous role localities plays in creating long-term, age friendly systems and structures.
While a complete list of local age friendly communities can be found here, below we examine which Coloradans live in these areas.
While a commitment to age friendly practices is essential to creating more livable communities for older Coloradans, we must also look at the availability of needed services and supports. To do this, we examine three key factors necessary to remaining in one's community of choice: home care supports from both paid and unpaid sources as well as hospice, adequate housing options, and transportation services.
Major Takeaways From the Data
While provider and service shortages for older adults throughout Colorado are well documented, these gaps are especially prevalent for those outside the Front Range. As seen in the map below, numerous counties either:
Lack a single certified home health, home care, hospice, skilled nursing, or assisted living facility or provider; or
Have no hospice provider and only one or two home health, home care, skilled nursing, or assisted living facilities or providers. Though not as severe of a problem as for those who lack any county-based supports, problems arise when sole providers close or services are only available to a portion of county residents.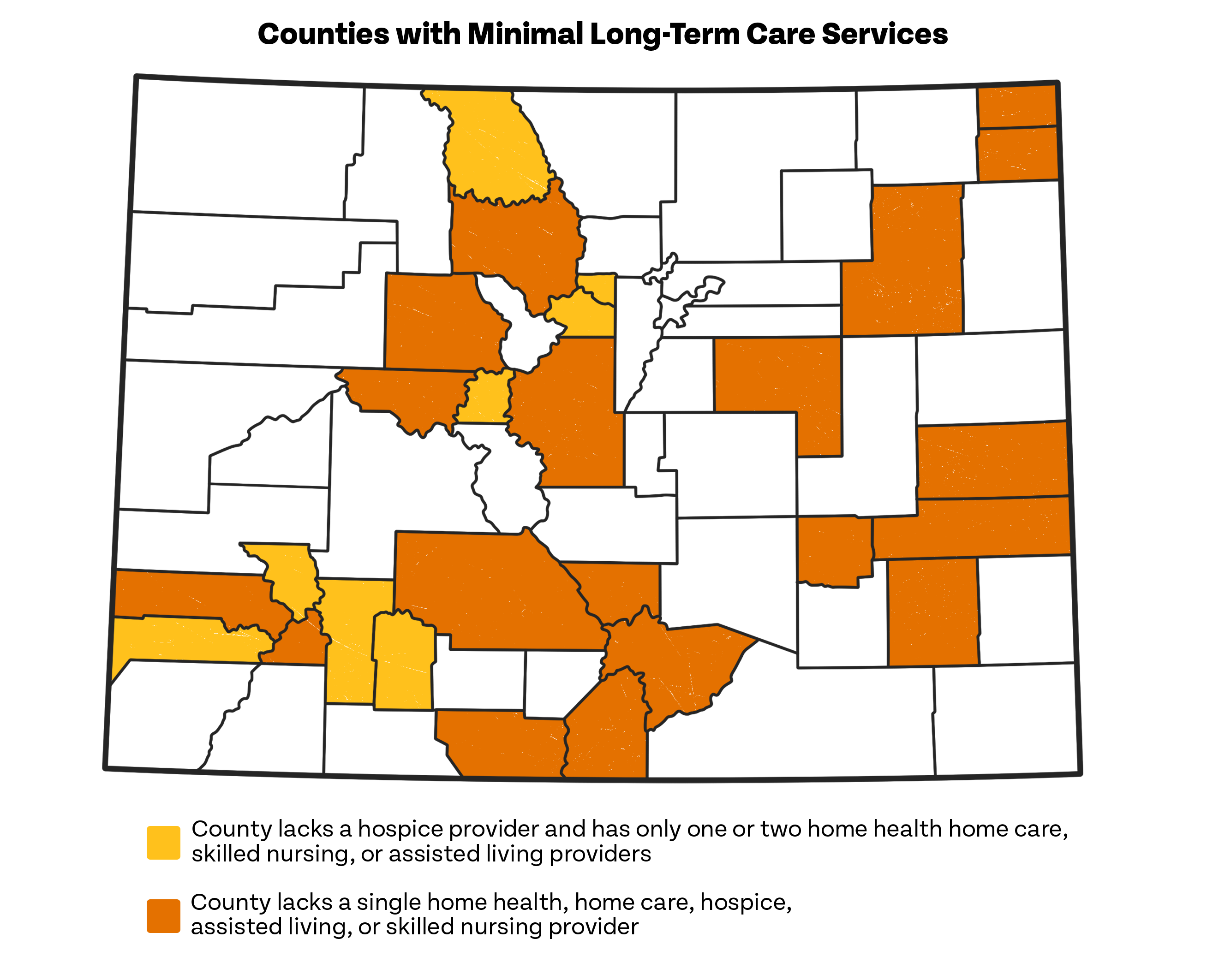 While most Coloradans will need some level of support from family, friends, or paid workers to remain in their communities of choice as they age, our analyses show sizable gaps in the caring infrastructure necessary to make this a reality. As shown below, all areas of Colorado need more family and friend caregivers. Concerningly, without change, we're likely to have a gap of 115,000 unpaid caregivers by 2030.

Similarly, we know there's already a tremendous shortage of paid workers in this field. Adding to this existent problem are projections the number of older Coloradans will increase by 41 percent through 2030, a shift which will require our direct care workforce to grow by a similar scale in order to keep up with rising demand for services. Unfortunately, if past performance is any indicator our state's ability to recruit and retain direct care workers, this will likely prove a steep challenge.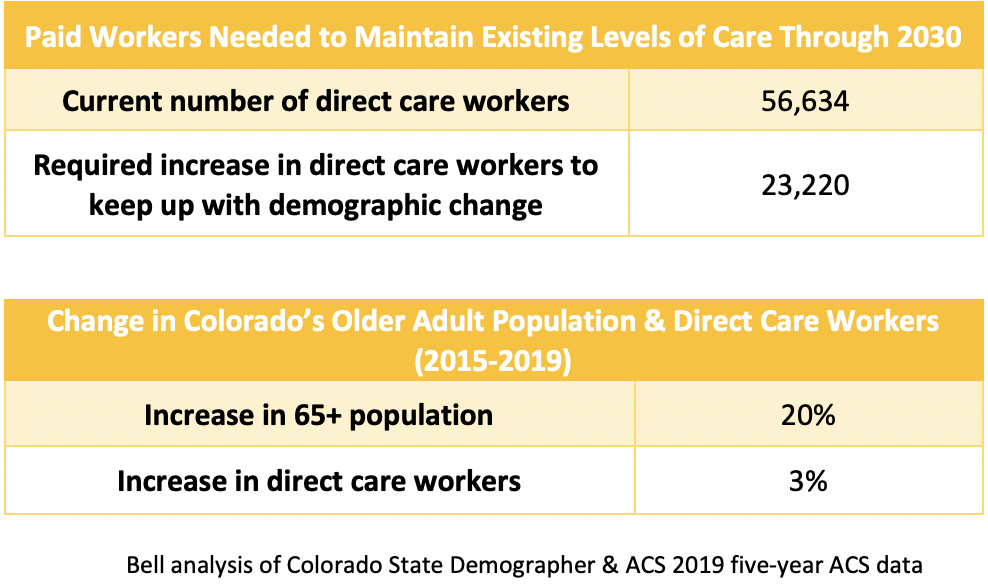 The lack of comprehensive, disaggregated data based upon a range of characteristics like race, ethnicity, sexual orientation, gender identity, and ability status make it difficult to truly understand how many older Coloradans are able to fully utilize community services. For example, organizations like Tri-County Health Network, CLLARO, One Colorado, CCDC, and others note the difficulties of finding and accessing culturally appropriate supports. While we know there can be significant implications when individuals don't receive care due to inadequate options, a lack of data prevents us from understanding the true size and scope of the problem.
Systems & Levers for Progress
To help older Coloradans remain in their homes and communities, it's critical to invest in systems supportive of unpaid caregivers, direct care workers, and community-based services. Below, we explore several levers which can improve supports in each of these areas.
Paid family and medical leave — which is paid, job-protected time off — has long been recognized as essential for working caregivers. In 2020, Colorado voters passed a ballot measure to create a new, state-based paid family and medical leave program. By 2024, most workers in our state will have access to at least 12 weeks of guaranteed paid leave a year. This program has yet to get up and running, and as a result, we don't have information on its impacts. However, in the coming years as the program develops, we should pay attention to the following outcomes to better assess its reach, gaps, and impacts:
Number of caregivers who utilize the program; and
The demographics of these caregivers, including, their gender, race, ethnicity, income level, and geographic location.
Respite, or temporary relief from one's caring responsibilities, is amongst the most commonly requested services and supports from caregivers. In a recent survey, regarding caregiving in Colorado, we found:
Nearly 40 percent of respondents didn't know where to access respite; and
Over 70 percent of respondents would find it either very or extremely helpful to have additional access to respite services.
These findings are backed up by analyses of needed versus utilized respite in Colorado, which show large discrepancies on both accounts. In the coming years, we can measure success in this domain by examining changes in access to this service.

Medicaid reimbursement rates: A multitude of factors are responsible for the longstanding lack of direct care workers in Colorado. However, low pay and poor benefits are especially prominent contributors.
Due to their place as a prime payer for these services, adequate Medicaid reimbursement rates are key to ensuring quality benefits and wages for this workforce. More work needs to be done to determine what an adequate Medicaid reimbursement rate, large enough to ensure quality training, wages, benefits, and overhead costs, truly is. However, in the meantime, it will be essential to track rate changes to ensure reimbursements are at least growing as the cost of living in Colorado rises.

Colorado's 16 Area Agencies on Aging (AAA) provide many of the services mentioned throughout this report, including transportation, nutrition, caregiver, and personal care support. Importantly, all of these agencies do so in a community-informed, community-tailored way. Both the array and manner of service delivery make this statewide network of providers an essential focal point for investment.
Importantly, we know the AAA system is underfunded, with a backlog of requested services. More research is needed to determine an adequate base level of funding for this system, but at a minimum, in the coming years, we can watch to make sure we're at least maintaining existing levels of support.