Our Caring Workforce: Who Are Colorado's Long-Term Care, Direct Service Workers?
Fueled largely by a rapidly aging population, positions for direct service workers are among the fastest growing occupations in the country. But who makes up this workforce, what do they do, and why does they matter? We explore these and other questions below.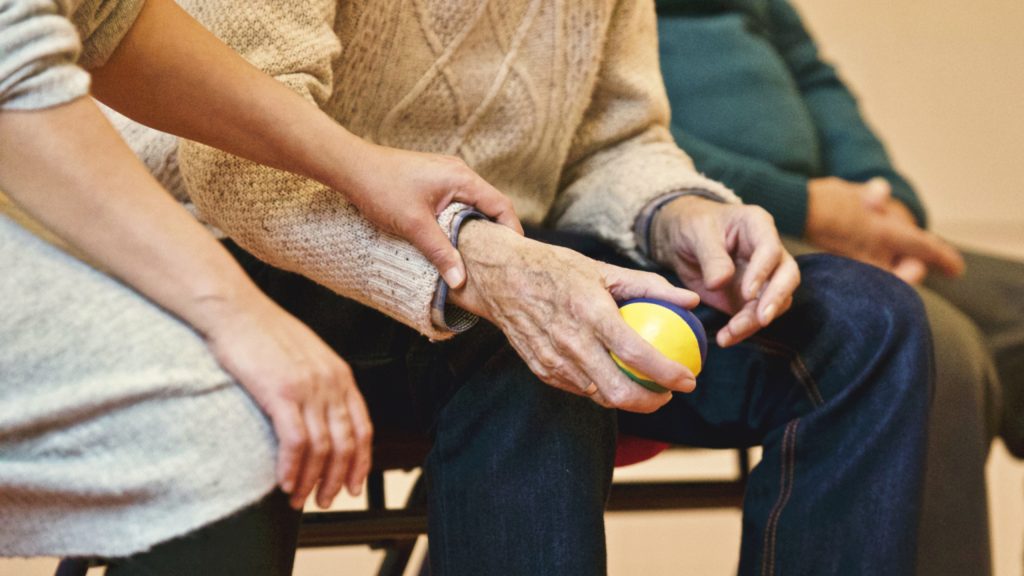 Why Direct Service Workers Matter
The direct service workforce is an inclusive term which covers a variety of positions, including nursing assistants, home health aides, and personal care aides. Though they have different responsibilities and training requirements, each of these positions provide direct, hands-on care to individuals who are unable to meet their own needs — primarily older adults and people with disabilities.
Related: Roadmap for Aging in Colorado
Direct service workers aren't the only individuals providing long-term care for older adults and people with disabilities. Doctors, social workers, and physical/occupational therapists are a few of the many other important professionals within the long-term care ecosystem. However, direct service workers provide approximately 80 percent of long-term care, making their services especially critical to ensuring the health and happiness of older adults and people with disabilities.
Our state's direct service workforce is especially important given Colorado's one of the fastest aging states in the country. As they age, the majority of older adults want to remain in their own homes. To do this, most older adults will eventually need some type of additional support, which may involve help with dressing, walking, or managing medications. While a significant portion of needed care is provided by unpaid caregivers — such as family and friends — paid workers often supplement this support. In addition to helping people remain in their own home, the direct service workforce is essential to ensuring those who either prefer, or need to, live in facilities like nursing homes are able to age in safe and meaningful ways.
While these front-line workers play an important role in bettering the lives of older adults, people with disabilities, and their families, developing a strong direct service workforce also impacts Colorado's budget. The Colorado Health Institute (CHI) projects if long-term care systems remain unchanged, the state budget will have a $488 million yearly gap between the revenue and expenses needed to care for Colorado's older adults by 2030. However, as CHI notes, if 20 percent of individuals projected to receive care in nursing home are served in their homes and communities instead, this gap will be eliminated. Bolstering the development of and support for the direct service workforce is essential to making this happen.
Positions in the Direct Service Workforce
Though they often work with similar clients and preform analogous tasks, differences exist between the direct service professions. Several of the key differences are highlighted in the chart below: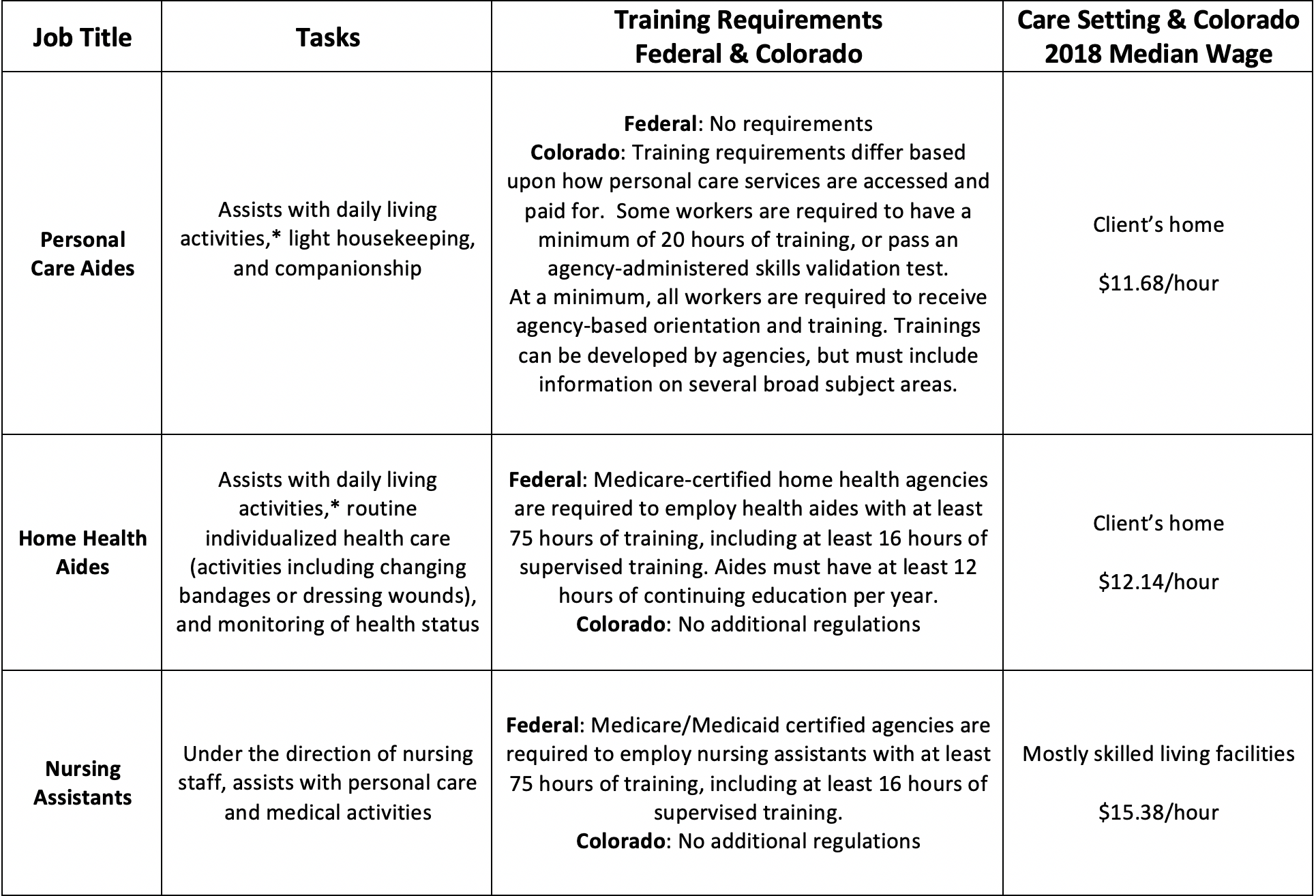 Who Are These Workers?

As the chart below details, nationally, the direct service workforce is disproportionately comprised of women of color with lower than average levels of formal education:

Conditions Affecting the Direct Service Workforce
Despite direct service workers' immense importance, conditions in the workforce are relatively poor. This is contributing to low recruitment and high turnover rates. Several of the field's larger challenges include:
Low Wages
With a median wage of $12.72 in 2017, wages for Colorado's direct service workforce are low. Adjusted for inflation, these workers saw only a one percent increase in wages between 2007 and 2017. As the Colorado Fiscal Institute (CFI) notes in recent research, minimal wages for personal care aides makes it difficult for these individuals to afford basic necessities like housing. According to CFI, personal care aides making the median wage in the Denver metro need to work 28 hours a week to cover rent for a two-bedroom apartment. As wages remain low, many potential workers opt for similarly paid, but less stressful positions.
Poor Benefits
In addition to low wages, direct service workers have minimal benefits. In 2017, 30 percent of this workforce relied upon public health insurance programs like Medicare and Medicaid. That same year, 18 percent of Colorado workers in this field lacked health insurance. This compares to the 6.7 percent uninsured rate for the state as a whole. Workers cite higher compensation, including better benefits, as a major factor which could improve the quality of their jobs.
Inadequate Training
While not unique, Colorado has minimal, non-standardized, training requirements for direct service workers. Research suggests these factors can contribute to low retention rates when workers don't feel adequately prepared for and supported in their work. Problems with minimal training standards are exacerbated by an increased need for more specialized skills to address the growing prevalence of complicated physical and behavioral health needs among those who require care.
Lack of Career Ladders
Finally, limited opportunities exist within the direct service field for workers to advance to higher skilled, better paid positions. With limited opportunities for upward mobility, which can be expensive to access, individuals may choose to either leave the field early or not enter this workforce to begin with.
---
Direct service workers provide critical supports to older adults and people with disabilities throughout Colorado. On the frontlines of long-term care, these individuals regularly help meet their clients' personal and medical care needs. While always important, the imperative to cultivate and retain a skilled direct service workforce is growing as Colorado's population continues to age.
However, several factors, including poor wages, low benefits, a lack of career ladders, and inadequate training opportunities challenge our ability to do this. As our state moves forward, we must invest in solutions that address these foundational problems and support the men and women who care for us and our loved ones. Learn more about what some of those solutions might look like by reading the next iteration in this series, Caring for Our Caring Workforce: A Stronger Direct Service Workforce.