A Year of COVID: Our Evolving Workplaces
Over the past year, the lines between our professional and personal lives have blurred, whether because we've taken on new roles as our kid's teacher, moved an older loved one into our home, or are still getting used to having our personal lives on display during staff Zoom calls. But if we're being honest, for many, these two parts of our lives — the personal and the professional — have never been that separate. No matter how great the expectation to compartmentalize, it's often simply not possible to draw strict lines around the different parts of our lives.
Challenges to the mantra that we keep our personal concerns separate from our work lives were happening well before COVID-19. But it was only during the pandemic, when all of our lives were simultaneously upended, that we were able to collectively begin re-imaging our workplaces and passing policies reflective of our lived realities. As we envision a future beyond COVID-19, we must build on the solutions we embraced this past year. By doing so, we can create the equitable, balanced workplaces our state needs.
A Broken System Before COVID-19
Before COVID-19 there was too little recognition of the complicated lives employees actually lead — ones that are often filled with caring for their own health and the health of their loved ones. Nowhere was this more obvious than in the lack of access to paid family, medical, and sick leave.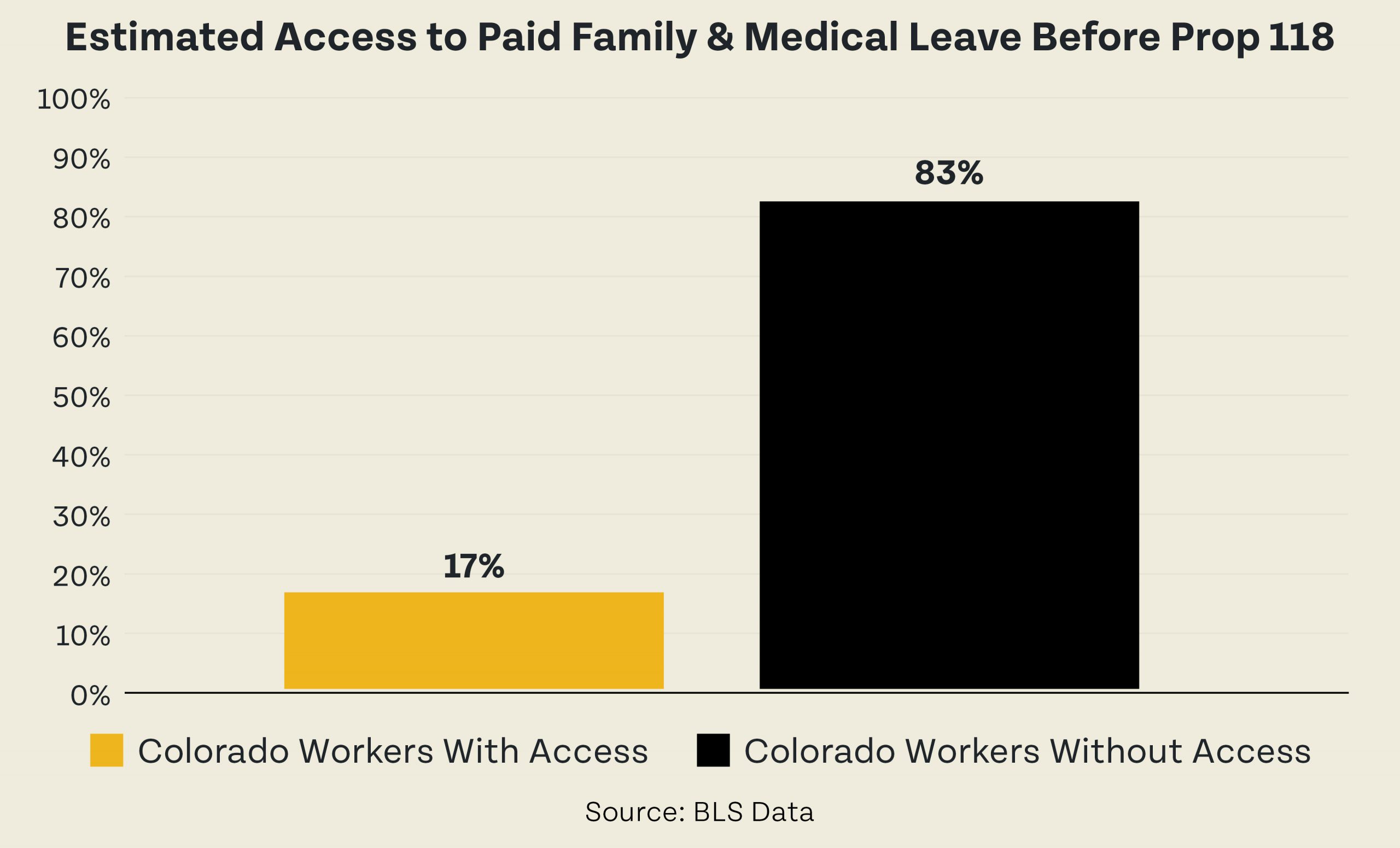 Concerningly, when breaking these numbers down further, we find there was vastly differential access to these workplace benefits based upon income.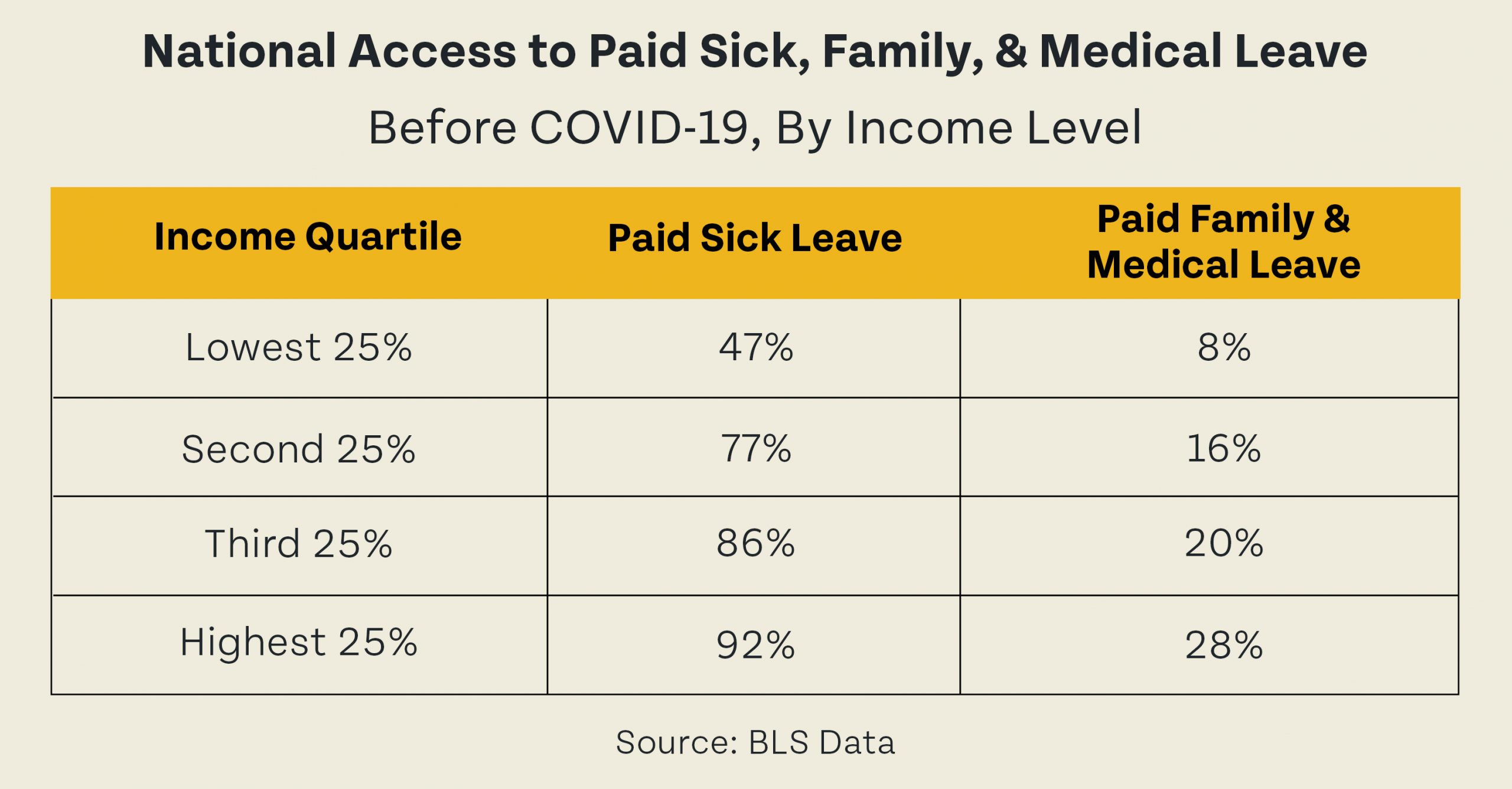 Despite the well-researched value of these programs — including increased worker productivity, health, and financial security — public policy to require these benefits regularly received unsubstantiated pushback about their cost and viability.
Progress During the Pandemic
Prior to the pandemic, a group of committed advocates and legislators, including 9to5 Colorado and Sen. Faith Winter, spent years pushing guaranteed paid family, medical, and sick leave policies — often noting the long-lasting toll the absence of these benefits has on families, businesses, and communities. The importance of these programs was only heightened throughout the pandemic — emergency paid sick leave has been credited with reducing transmission of COVID-19, and family and medical leave remains an especially significant tool for the many women who've born the economic brunt of our ongoing pandemic.
Ironically, it was a global pandemic that finally allowed our state to pass two of the most robust paid leave programs in the country:
Proposition 118: Through its passage, Colorado creates the first state-based paid family and medical leave program passed by the voters. When fully implemented in 2024, most Coloradans will have a minimum of 12 weeks of paid family and medical leave a year.
HB20-205: Becoming the 15th state in the country to create an earned paid sick leave program, this House bill provides a mechanism for workers to earn 48 hours of sick leave a year.
These are meaningful policy changes we once viewed as unthinkable. Unfortunately, it took a global pandemic to show not only these and other workplace benefits are viable, but they are in fact essential to the health and well-being of our communities.
A Path Toward a Stronger Colorado
COVID-19 has not only exposed the unrealistic expectations we have of workers, but it's also taught us we're able to do better. As we begin to imagine a COVID-free Colorado, we can't simply return to the world that existed beforehand. Instead, we must build on the systems, structures, and policies that retool the often-unstated contract between employers and employees. We can do this by:
Increasing protections for family caregivers: Whether it's caring for a child or an older loved one, enhanced workplace protections, included anti-discrimination policies, are valuable to creating more equitable, family friendly workplaces.
Ensuring the equitable implementation of recently passed policies: Though we've recently passed a paid family and medical leave program in Colorado, the work of implementation is not done. Over the coming months and years, we can, and must, make sure that the program works for everyone across our state, especially those who are most vulnerable.
Supporting the creation of more robust child and elder care options: Of the many challenges workers have faced throughout the past year, caring responsibilities have often been among the most significant. Enhanced resources for caregivers — provided with both public and private support — are important to ensuring healthy communities and workplaces.
Prior to COVID-19, our workplace policies were inadequate for too many Coloradans, and the absence of needed benefits played a role in growing the reach and economic impact of the virus. But now that we've seen it's possible to create stronger and more meaningful workplace policies, even during a pandemic, we must build upon this progress. By doing so, we can create an economy that truly works for everyone.