Caring for Our Caring Workforce: Strengthening Colorado's ECE Workforce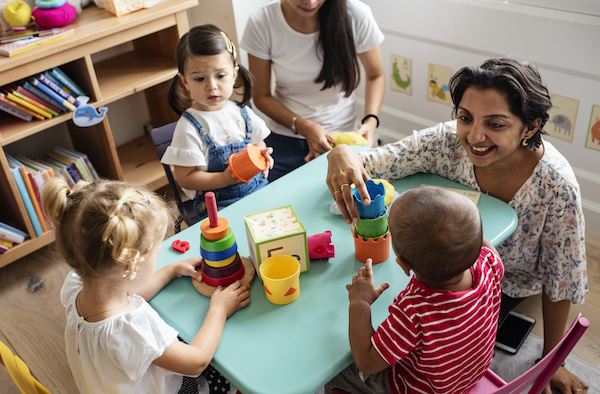 The high-stress environment and physical, mental, and emotional toll of early childhood education jobs is exacerbated by low compensation and increasing demands. (Find out more about Colorado's ECE workers here.)
This results in a field that experiences turnover at about 30 percent annually, a rate four times higher than among elementary school teachers, according to Phillips & Howes report on the National Child Care Staffing Study. Turnover results from low salaries, a lack of benefits, and difficult working conditions — all of which result in low well-being, high stress, and job burnout.
Who Would Be Impacted by Reforms?
Enacting changes to improve the current early childhood care and education system would be beneficial for various stakeholders. Nothing happens in isolation, and the workforce directly impacted aren't the only ones who stand to benefit.
Children & Families
Continuity of educators (i.e. little turnover) has positive benefits to both children and parents. Because children reach 90 percent of full brain development by the first day of kindergarten, quality early childhood care experiences and education are vital to their growth.
Children who have access to and attend high-quality early care and education have been linked to several positive outcomes, including higher graduation rates, higher adult earning potential, increased rates of home ownership, and less dependence on social service. For children living in low-income households or face other barriers to economic mobility, high-quality care helps to reduce significant achievement and development disparities. Studies show adults who participated in quality care as children have better overall physical health than those who didn't.
Parents lives would improve as well. If care is unreliable or untrustworthy, parents stress over their children and child care options. When high-quality care is available and accessible, parents (especially low-income mothers), see an increase in job and educational opportunities that have the ability to increase the health and financial resources of themselves, as well as the entire family unit.
Educators & Care Providers
The stability of ECE is crucial to the provision of quality of care as research increasingly recognizes the link between early childhood educators' overall well-being and their capacity to provide high-quality education. If offered a livable wage, this workforce would experience a variety of advantages, such as higher levels of stability for workers and their families, better health, and decreased levels of stress.
Stability would also reduce turnover costs, leading to more direct investment in the classroom. When a worker leaves a position, the center must pull funds to replace him or her. If more educators can afford to stay in the field, that funding is directed back into the children and their education.
Coloradan Economy
Currently in Colorado, 63 percent of children live in a home where all parents work, while 22 percent of children our state are members of a low-income family. The early childhood education workforce not only enhances the lives of the children it serves, but it allows those parents across the state to join and participate in the workforce, generating $4.4 billion annually for the Coloradan economy.
When Colorado invests in high-quality early education, $832 million in long-term dollars are saved each year. This is due to savings from avoided special education and juvenile justice costs that are associated with access to high-quality ECE. This also accounts for increased lifetime earning potential for adults who attended quality early childhood education.
Possible Reforms
In order to provide quality care and meet responsibilities, Colorado's early childhood education workforce must able to meet its own needs. To do this, research has suggested regulation around educational attainment, increasing financial compensation and benefits, and enhancing overall well-being of educators through workplace reform.
Training & Education
Increasing certifications and coursework requirements are often pointed to as the solution for "low-quality" child care, but there's much more to it. Early educators with degrees or formal training are linked to more responsive care, stimulating educational environments, and better learning outcomes for kids, however, increasing education requirements put serious strain on a workforce that struggles to afford new requirements, and have limited time and resources to complete them.
Trainings aren't always accessible. Barriers to completing training and education include the high cost of attendance, having to take unpaid time off of work, or a lack of trustworthy coverage while attending. This is evident by the large percentage of early educators who forgo professional development and trainings.
What Can Be Done
Investing in loan forgiveness programs, scholarship programs, and more general supports, with an emphasis on the more vulnerable populations is one approach. Previous Colorado legislation attempted to address this issue with the Early Childhood Educator Development Fund. This piece of legislation — proposed three separate times between 2010 and 2015, but never passed into law — would have funded scholarships for early childhood educators.
Recently, Connecticut passed legislation in 2017 that requires all early childhood educators to hold an industry specific degree by 2020. Yet that same year, the state failed to pass legislation surrounding the creation of a fair compensation schedule for educators. The proposed bill would've ensured early childhood educators could not only meet their needs, but the costs associated with quality standards as well.
What's Being Done in Colorado
The scholarship program T.E.A.C.H Early Childhood Colorado provides assistance and a pathway toward higher education. In 2018, this program had a 100 percent retention rate, and participants completed almost 700 credit hours within the year. Despite its success, the program has limitations in its reach: That same year, only 78 early care professionals were awarded T.E.A.C.H. scholarships.
Additionally, the Colorado Child Care Contribution Tax Credit (CCCTC) has helped support child care for the past two decades. CCCTC applies to those who donate to a range of organizations that offer supports, including after-school programs and initiatives that help homeless youth. While not specific to ECE, CCCTC still provides assistance to the field. A study done by Executives Partnering to Invest in Children (EPIC) on its impact shows for every state dollar invested in the early childhood education and care field through the program, the Coloradan economy earned $4.65. In 2009, CCCTC was responsible for $22.8 million in child care related contributions.
Increasing Wages & Financial Assistance Programs
While educational attainment is a large part of the conversation, so is addressing fair and adequate compensation and benefits. This would decrease financial strain, reduce turnover rates, and allow educators to continue their education.
What Can Be Done
The Child Care WAGE$ Project combines educational achievement with increased wages in an effort to heighten retention, compensation, and education. Spanning five different states and resulting in lower turnover rates and increased quality of care, WAGE$ provides salary supplements to educators who advance their education. In the 2013-2014 school year, WAGE$ invested $11.5 million dollars into child care. The Women Foundation of Colorado's report on Colorado's early care and education workforce suggests pairing the WAGE$ Project with teacher scholarship programs, such as the T.E.A.C.H. scholarship program, to increase wages without increasing financial strain.
States such as Louisiana and Nebraska, have set other examples on how to address the issue of low compensation. In 2007, Louisiana successfully implemented the School Readiness Tax Credits (SRTC). This created a refundable tax credit for early child care directors, educators, and other staff members based on academic qualifications. The results are strong, as centers and educators were encouraged to improve quality, the number of educators enrolled in courses increased, and the overall quality of care in the state has increased.
These credits have also helped to increase ECE funding, and as of 2018, SRTC led to Louisiana securing $80 million in additional federal dollars for early education. In an attempt to increase access to high-quality early childhood care and education across the state, Nebraska modeled their 2016 School Readiness Tax Credit Act after Louisiana and is expected to see similar results.
What's Being Done in Colorado
In 2017, Colorado outlined its steps for changing the ECE field in Colorado's Early Childhood Workforce 2020 Plan. This plan outlines several ways to improve well-being for Colorado's early childhood care workers; among them is the idea of equitable compensation and benefits. Wages are highlighted as a way to not only engage, but retain, qualified and efficient educators.
The Colorado legislature passed HB19-1005, an income tax credit for early childhood educators. This legislation applies to educators with eligible credentials who work in formal or informal child care settings that meet a certain rating on the state's quality scale, Colorado Shines.
The legislature also passed HB19-1210, which would allow for local governments to establish their own minimum wage laws. If a city, such as Denver, were to pass a $15.00 an hour minimum wage, it would increase wages for 72.8 percent of child care workers working 20 or more hours a week, and 55 percent of all child care workers.
Unfortunately, early childhood care workers and educators are often left out of other education measures; Colorado's SB19-003 is an example of this. The educator loan forgiveness program addresses the issue of student loan debt in typically low paying fields, but only applies to educators who teach kindergarten and up. Colorado calls for ECE workers to attain higher education in order to receive more pay, yet leaves them out of crucial legislation that could help assuage the cost of said schooling.
---
Early childhood education improves children's school readiness and future successes, but the people who take on this critical role have yet to be recognized with the same regard as their kindergarten and elementary school counterparts.
Early childhood educators deserve adequate compensation, characterized by livable wages and better benefits, that align with similar industries. Policies that support the creation of a high-quality early education workforce have meaningful economic and social contributions, but our current system is flawed. As a result, Colorado's ECE workforce is struggling, and in turn, our children's education is suffering. It's time we act on behalf of Colorado's early childhood workers and caregivers, as well as the children and families who depend on them.