The Irony of Middle Class Wages in Colorado
While Colorado may be seeing pay creep up for some, it's only those at the very top and the very bottom of our wage scale. For those at the top, strong emphasis on education has helped propel these Coloradans into positions where earning middle class wages is common, yet raises aren't keeping up with costs. For those at the bottom, policies like the minimum wage increase Coloradans voted on in 2016 are helping many see increases they wouldn't have otherwise. But what about everyone else? Recent data on Colorado occupations and wages tell two different stories, but have the same ending: In order to build a strong and thriving middle class, Colorado needs to strengthen wage growth at all levels.
Minimum Wage Increases Good for Workers, But Still Not Enough for Middle Class Wages
In an interesting analysis of the "wage puzzle," Jason Furman, chair of the White House Council of Economic Advisors under President Obama, muses about the state of stagnant wages nationally. While he lays most of the blame for tepid wage gains on slow or nonexistent productivity growth, he also points out how we're seeing stronger wage growth at the low end of the wage scale rather than in the middle or upper-middle levels. He attributes this gain to minimum wage increases that occurred in Colorado and 20 other states and D.C. since 2014. He argues, "This success should encourage us to do more."
As our recent report on Colorado's middle class illustrates, higher wages typically depend on a family having two earners in jobs that pay well. But just like Furman notes, folks benefitting from minimum wage increases are seeing a pay bump, too. That said, we must do more, especially when we consider minimum wage increases help Coloradans who earn the least, but these jobs are unlikely to pay middle class wages.
In our report, occupations are identified based on their likelihood to sustain a middle class lifestyle. When it comes to the six occupations identified as least likely to pay middle class wages, these accounted for 7 percent of Colorado jobs created in 2017. Three of the occupations — health care support, cashiers, and laborers and freight, stock, and materials movers — lost jobs.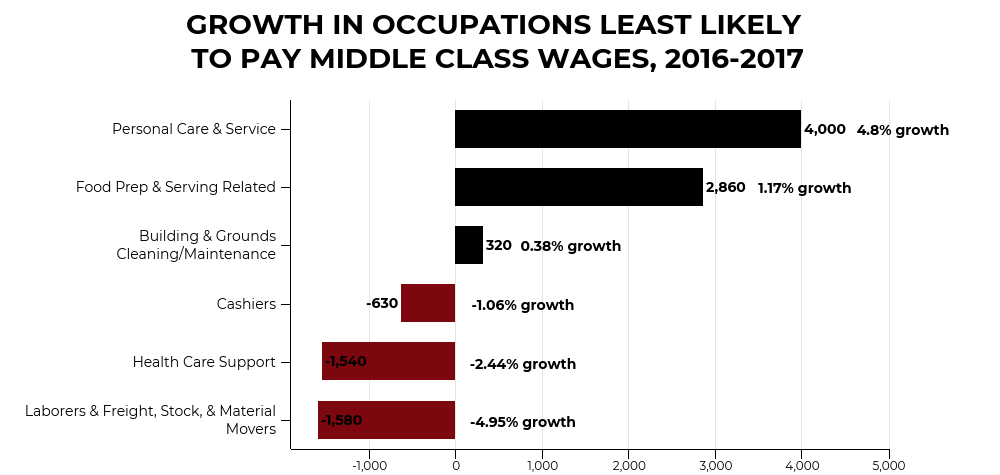 Source: Colorado Department of Labor and Employment, Occupational Employment Statistics Program 
However, median wages for all but the personal care and service jobs increased faster than inflation; wages in that category grew at 3.4 percent, the same as inflation. These jobs pay low wages; even with some Colorado wage growth, workers aren't likely to advance into the middle class. Still, the increases they're experiencing help them keep up with rising prices.  
The increase in Colorado's minimum wage is pushing employers to raise starting pay in these occupations, and likely the wages of more experienced workers to keep current with the increase. Still, entry level wages for three of the occupations — food preparation and serving related, personal care and service, and cashiers — were below 2017's $9.30 minimum wage. Two others — building and grounds cleaning and maintenance and laborers and freight stock and material handlers — were less than $1.00 per hour above the minimum wage.  

Between 2016 and 2017, entry level wages increased faster than inflation for all six of these occupations. Wage gains in these occupations should continue; the 2017 entry level wages for the same three occupations are lower than Colorado's current $10.20 minimum wage, and for two others, less than $1.00 per hour above it. But will it be enough for these families to earn middle class wages? If we continue to work on policies to give these workers a true living wage, it's definitely within our grasp.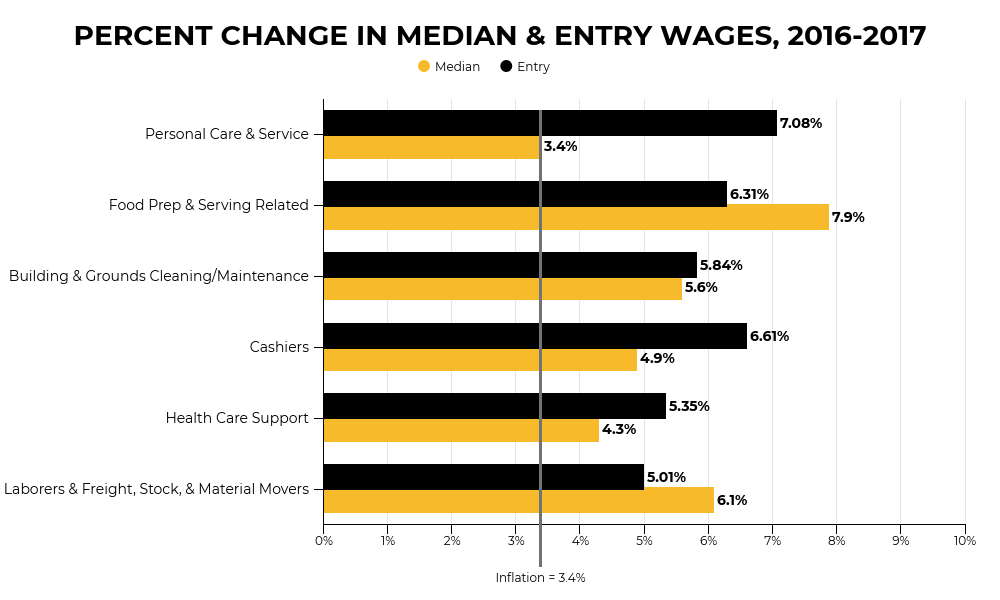 Source: Colorado Department of Labor and Employment, Occupational Employment Statistics Program 
Jobs With Middle Class Wages Are Growing, But Pay Raises Aren't
The good news: Almost half of the 47,620 jobs Colorado added in 2017 were in the six broad occupations identified in our recent report as highly probable to move families into the middle class.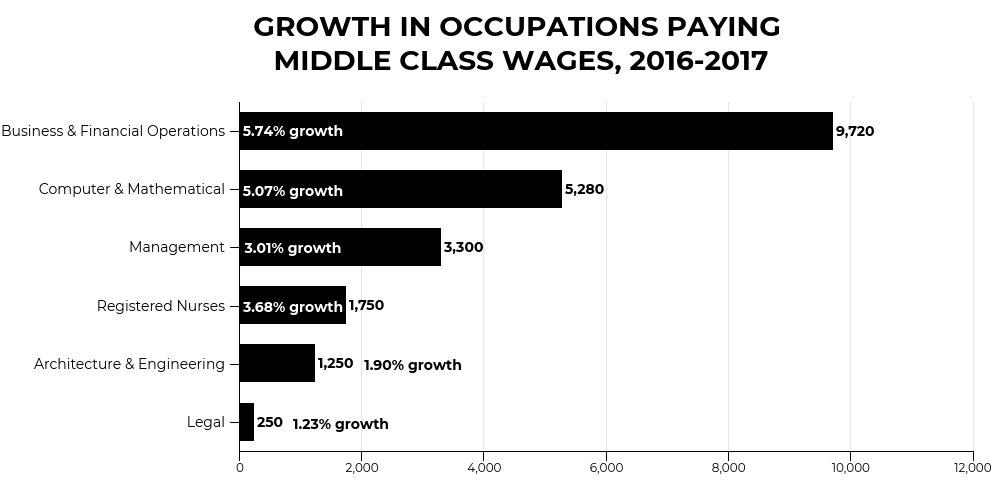 Source: Colorado Department of Labor and Employment, Occupational Employment Statistics Program 
On the downside, median wages in all but registered nurses and legal occupations grew slower than Colorado's 3.4 percent inflation rate between 2016 and 2017. This means on average, families' wages didn't keep up with rising prices in 2017. While people in these jobs make good money, they aren't seeing the kind of raises one would expect given our strong growth and low unemployment.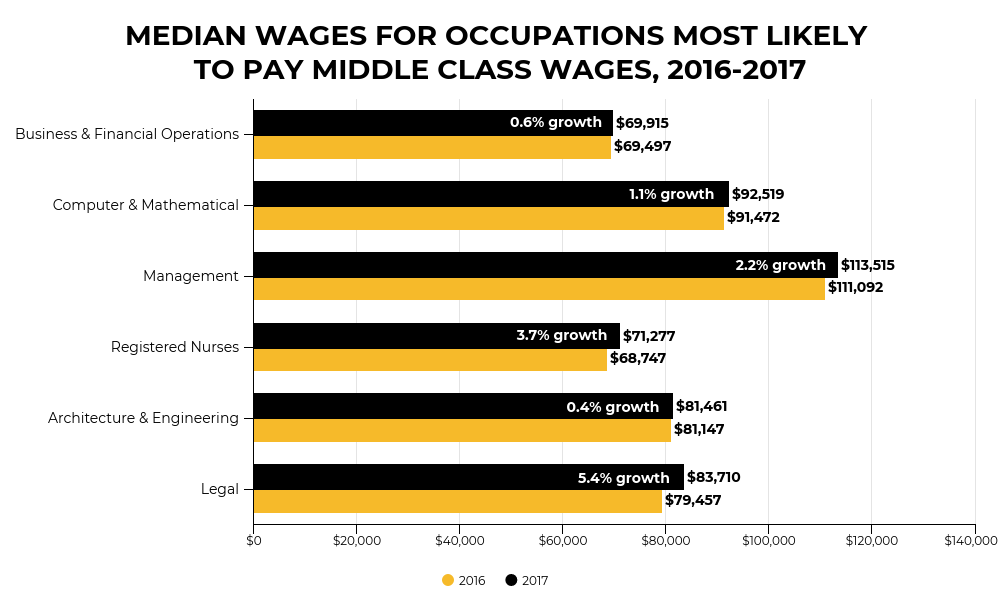 Source: Colorado Department of Labor and Employment, Occupational Employment Statistics Program 
Given the low rate of unemployment and the strong economic growth we're experiencing, earning middle class wages shouldn't be too tall of an order in Colorado. If we continue to find ways to bring up the pay for all jobs across the state, we can make the promise of economic for every Coloradan a reality.