Oppose HB18-1057: An Alarming Change in Debt Collection Procedure
Update: HB-1057 passed the House with amendments brought by the Bell Policy Center and other consumer advocates. Read our statement below.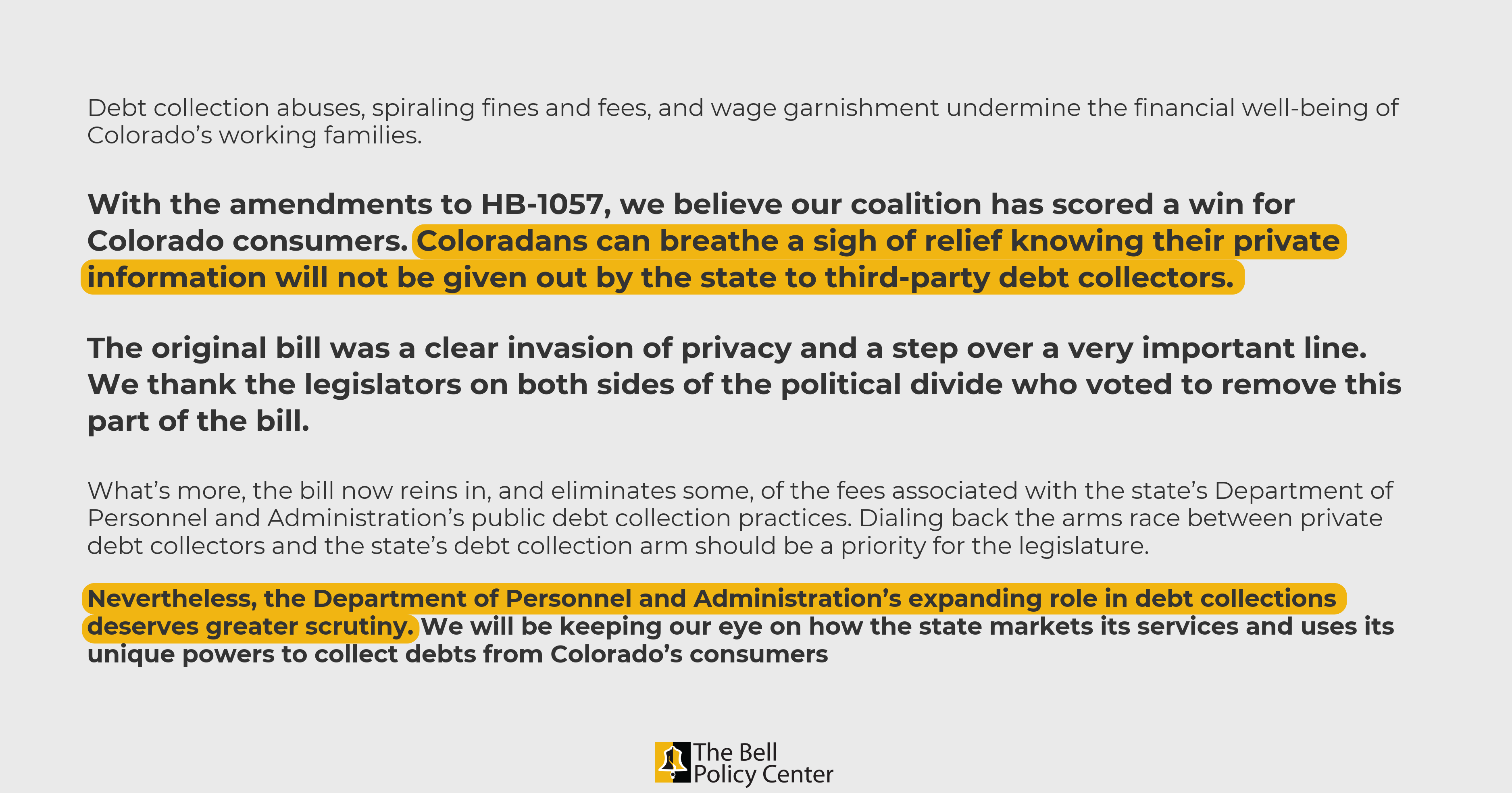 HB18-1057 would allow debt collection attorneys to bypass current procedure and compel the Colorado Department of Labor and Employment to provide private employment information about Coloradans in debt collection cases. Wage garnishment is a serious step with dramatic implications for employment status and the ability to earn income. As families struggle with rising costs of living, Colorado's household debt is increasing. Now is not the time to give debt collectors an unprecedented short cut that undermines privacy and involves the state in private matters.
This bill allows private companies to access private government information.
Involves Government in Private Debt Collections
Colorado would be one of the only states to allow debt collectors to compel state government to divulge non-public information about Coloradans' private employers and their place of work.
This proposal would use state government information to divulge private employment details and make it easier to seize people's wages.
Disrupts an Existing Process That Keeps Consumers Informed
Existing Colorado Rules of Civil Procedure allows debt collection attorneys who secure a judgment against a consumer for money to retrieve information needed and notify consumers a judgement has been reached.
In a study by the Center for Responsible Lending of court cases by the top 5 debt buyer companies alone, 71 percent of the cases resulted in default judgment. Because of this, many consumers are not even aware that there is a judgment against them until Rule 69 proceedings occur. Under this proposed process, wages could be garnished from consumers before they are even aware that they owe money.
Because of debt purchasing practices that the legislature has already acted to stop in the future, many of the consumers affected by this change may not actually owe the debt being collected.
Is HB18-1057 Legal?
Under federal law, it might not be legal for state agencies to disclose private state government information to private companies. The access HB18-1057 seeks to create is generally prohibited to non-governmental entities unless there is informed consent from the individual for whom you are seeking wage record information.