Colorado UI Update: September 10
Though months into our current COVID-induced crisis, we're only beginning to understand the virus' long-term economic impacts. National data indicates not only will the likely effects be lasting and deep, but absent intentional public policy, COVID will further exacerbate existing inequities.
If we want to create a stronger post-COVID economy that supports all Coloradans, we need comprehensive, demographically disaggregated data.  To this end, the Bell Policy Center will be regularly examining Colorado's monthly unemployment insurance (UI) claims data, tracking utilization across age, race/ethnicity, and gender.[i] By doing so, we'll be able to see what recovery looks like across communities, providing the foundation for the tailored response our state needs.
Key Economic Takeaways Through July
While the state as a whole is experiencing some economic bounce back, the benefits aren't universally felt across demographic groups. Notably, of all analyzed demographics, Black workers are the only group who continues to see an increase in UI utilization.
When examined through the lens of age and gender, women and younger workers have experienced the largest economic disruptions as a result of COVID. However, certain groups, including older workers, have seen a plateau in their recovery throughout the past couple months.
Concerningly, data from the Bureau of Labor Statistics indicates the state's labor force shrunk by 95,000 individuals between June and July, showing some Coloradans are choosing to leave the labor market. We don't yet have information on who these Coloradans are or if it's long-term, but it'll be important to continue watching these numbers in the coming months because of their implications for family economic security.
Key Employment Recovery Indicators
Share of Workers on UI Through July 2020 (based on pre-COVID workforce estimates)

Share of Workers on UI Through July 2020, By Gender (based on pre-COVID workforce estimates)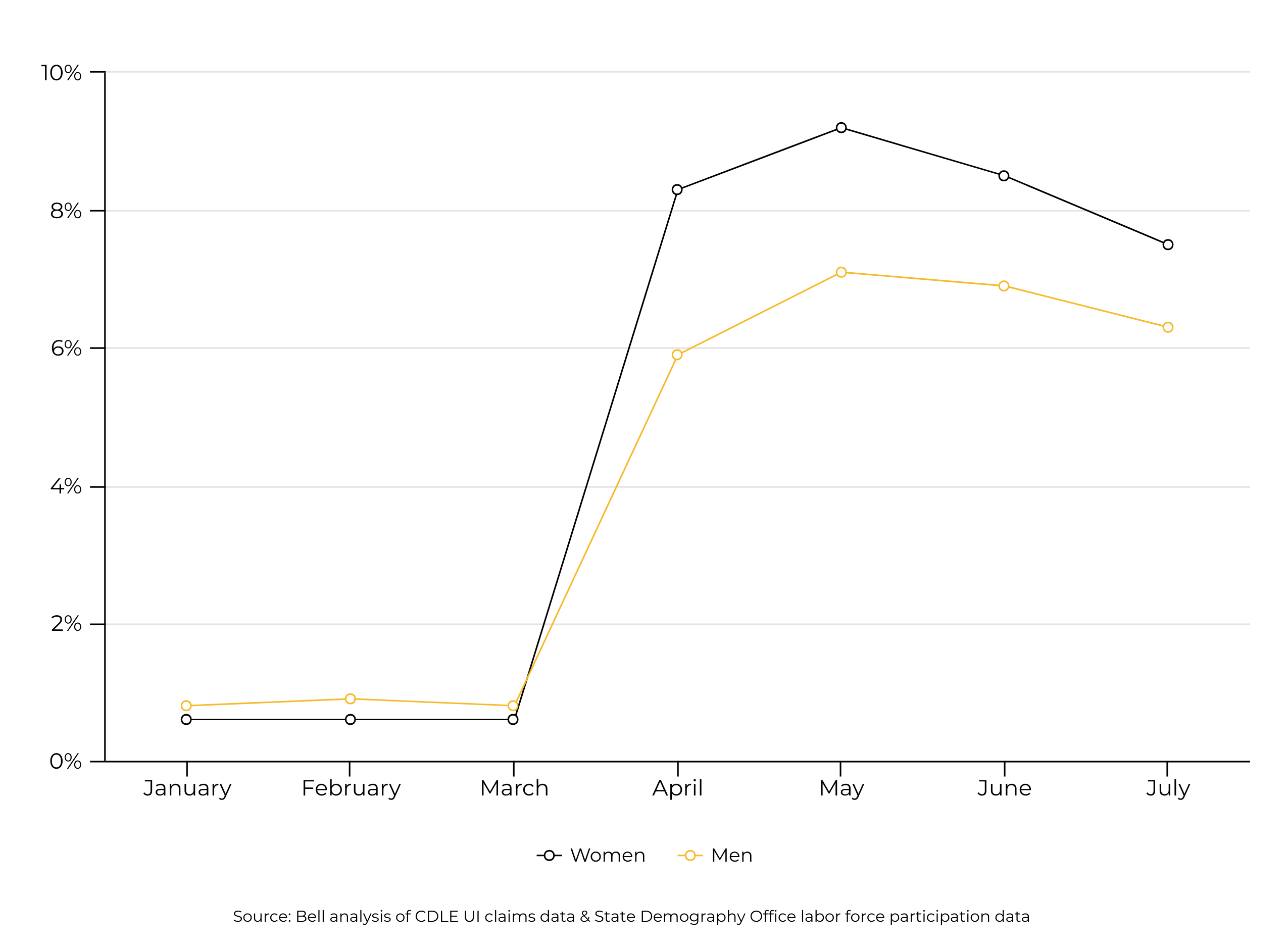 The above graph suggests even though they're returning to work quicker than men, this recession continues to have the greatest impact on women. However, as we've documented previously, women are more likely than men to work in essential jobs. This may account for their more rapid reduction in UI utilization throughout the past few months.
Share of Workers on UI Through July 2020, By Age (based on pre-COVID workforce estimates)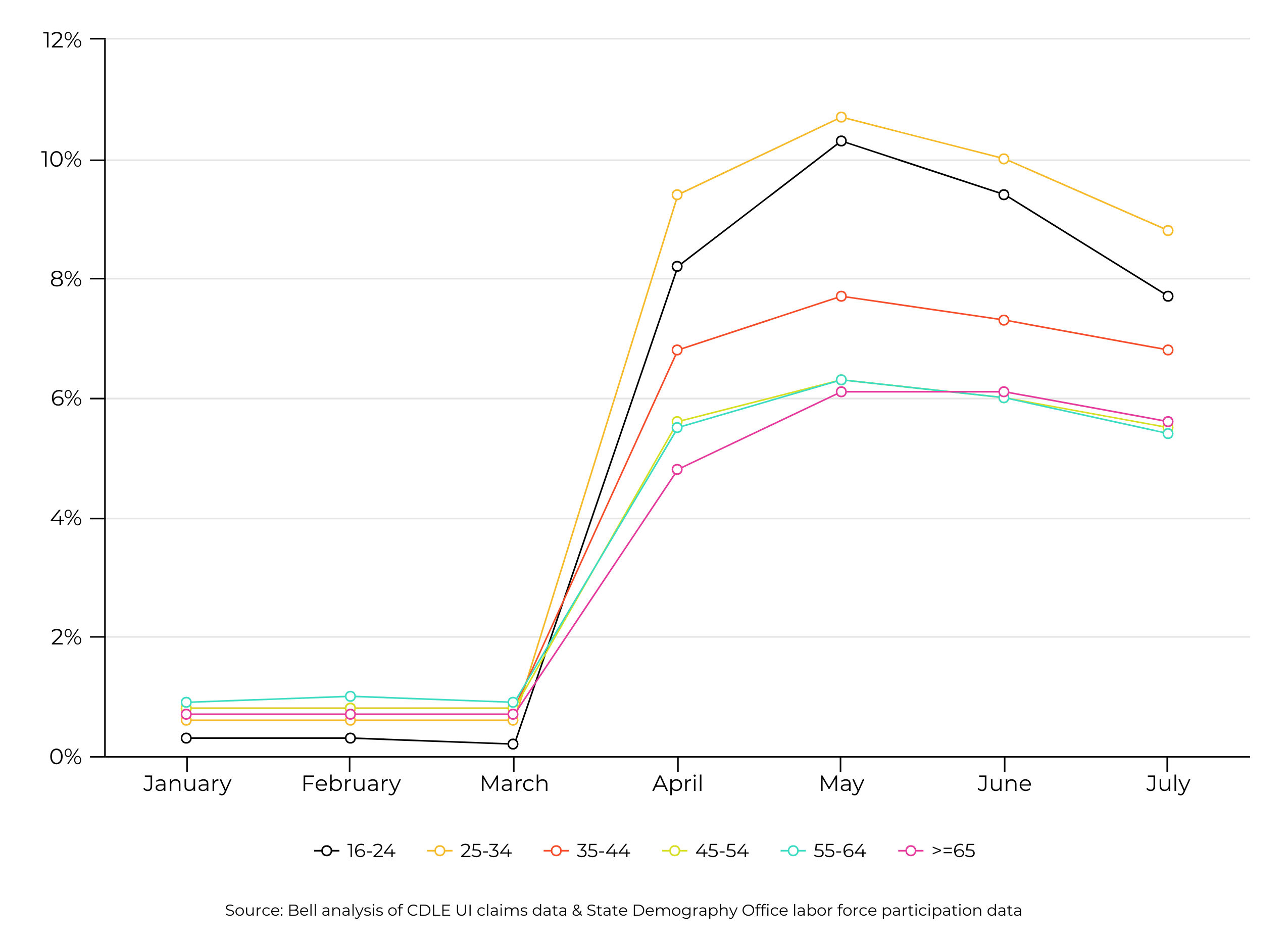 The above graph suggests this recession continues to impact younger workers at higher percentages than their older counterparts. However, in recent months, the above graph shows a flattening in older individuals returning to work, suggesting these Coloradans may be finding it harder to re-enter the paid workforce.
Share of Workers on UI Through July 2020, By Race/Ethnicity (based on pre-COVID workforce estimates)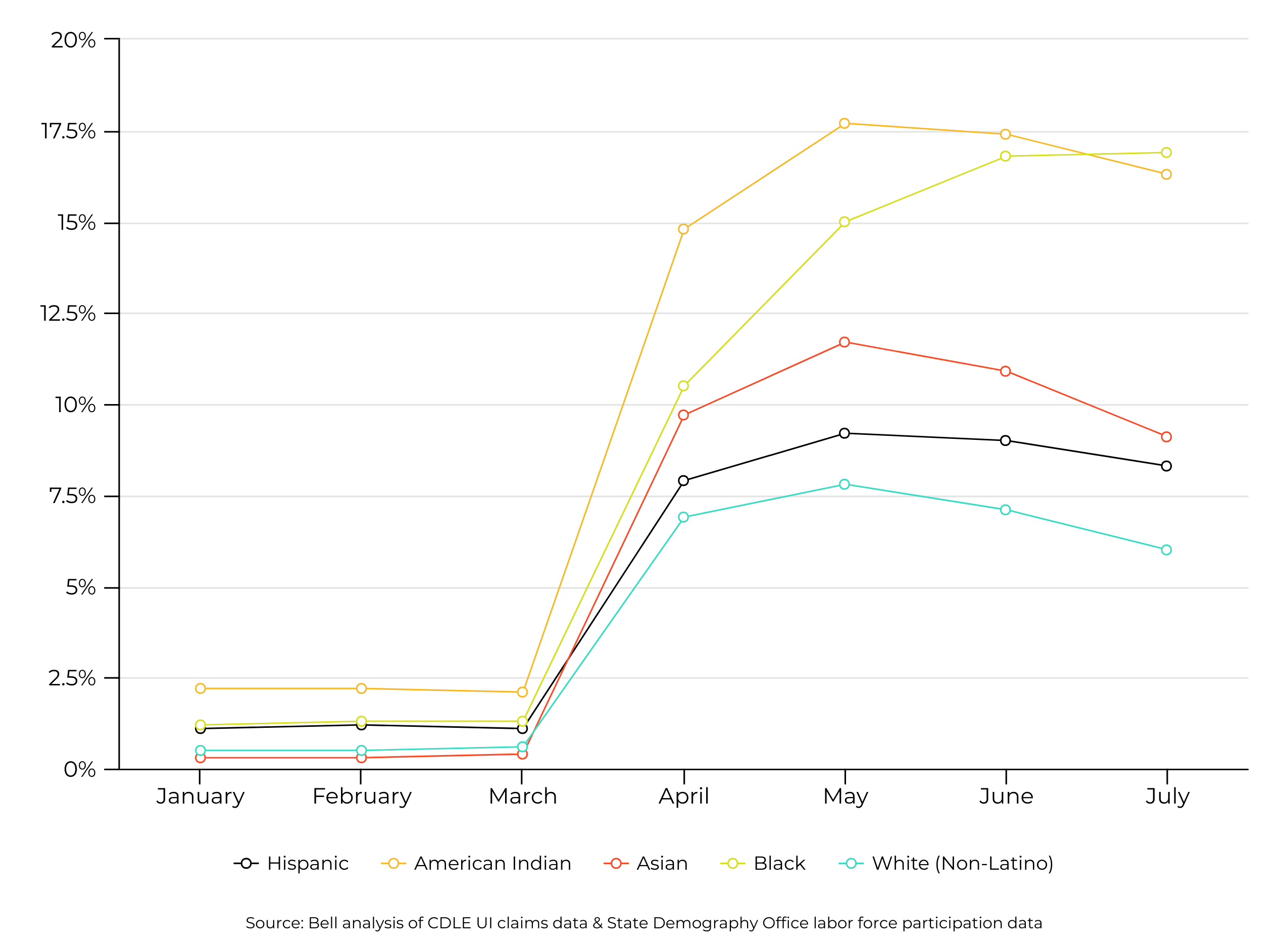 The above graph suggests despite general improvements, employment gains aren't equally distributed among Coloradans. Notably white workers initially saw some of the smallest employment disruptions, and continue to do better than other racial/ethnic groups. Additionally, it's also important to note, almost all groups across race/ethnicity, age, and gender have seen UI utilization trend downwards. Black Coloradans are the sole exception, and are the only demographic to see a continued increase in UI enrollment.
Throughout the coming months, we'll continue examining these trends. By doing so, we hope to build the solid foundation needed for strong public policy that allows all Coloradans to thrive in a post-COVID world.
---
[i] UI data is used in this analysis instead of unemployment information because disaggregated, monthly unemployment data based upon race/ethnicity, age, and gender isn't currently available.